Fluorescent lights are massively used for residential, industrial, or commercial use. The uniform lighting level and more extensive area coverage tend to carry good demand for these lights. But little DIY action can make the entire appearance of these fluorescent lights more appealing.
Covering them with fabric is one of the DIY tricks that come with so many benefits. But it is also essential to know the procedure properly as wrong actions can bring a faulty outcome.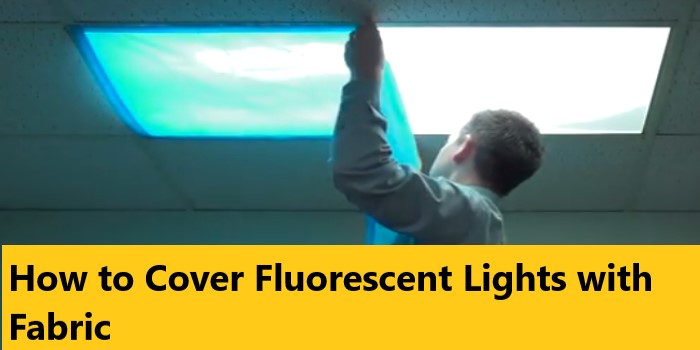 One of the most popular DIY tips with fluorescent light is, covering them with fabric. This tip will keep the ambiance more soothing, healthy, and harsh glare-free. Not only this, but you can change the light color also by covering it. Besides, using some designer fabric can be a unique addition to the decoration of your place.
Well, do you know how to cover Fluorescent lights with fabric? Here you'll get the ultimate suggestions and tips on protecting Fluorescent lights. So, without making any delay, let's jump into the topic.
How to Cover Fluorescent Lights with Fabric: 7 Simple Steps
Covering the fluorescent lights is super beneficial and an easy task to do. All you need to know is the correct processes. Our easy guideline will not make you bored at all to cover your fluorescent bulbs.
Table cloths can stand as the wise choice in terms of covering fluorescent lights. You can use other types with various colors and designs for decorating the place as well.
The entire process will require you to set the hanger up on the wall, take some measurements, cut the fabric, and secure it up properly. Make sure you make the light hang tightly and adequately.
Well, here with the steps, you would need to use some technical tools. So, if you're not a professional or haven't done any tasks with hardware, I would suggest having a hand of someone with you.
Fluorescent lights are popular with their substantial emission, lower energy reduction, and longer wavelength. All these benefits can climb to the best by covering the lights with colorful fabrics.
Cover Your Fluorescent Lights with Fabric: Step By Step
Covering fluorescent lights will require some essential tools and materials. First of all, you will need to gather them together. Make sure you've got all the necessary materials before starting with the procedure.
Tools & Materials You'll Need:
Binder Clips
A kit of curtain rod
A table cloth
These are the three basic things that you would need while covering the fluorescent lights properly. Now, you can move on with the primary task here.
Step 1:
First of all, you need to measure the lighting area. This will help you to create layouts. Get the cleats and mount them properly. You should get 3 screws with each of the cleats. Use them to tighten the cleat on drywall. Using drywall anchors will ensure extra strength. You will need to make the same adjustment to the rest three cleats.
Step 2:
Secondly, you need to insert the rod properly into the secured cleat. Make sure, you have adjusted it firmly. Then, you should slip the finish hardware over the adjusted cleat. The rod's most minor part would have an attachment part. Now, you need to take the screw and use it to slip the cable into the rod.
Step 3:
Now, it's time to attach a cable. You should cut the cable length properly along with coupling hardware.
Step 4:
Next, you need to make the cable tighten. For that, you should turn on coupling hardware. This would be the ultimate step for tightening the cable.
Step 5:
Now that you're done with setting up the cleats, you should go for the covering of fluorescent lights. Choose your preferable fabric. Here, I'll recommend you to use some well-designed table cloth. You'll find various types of patterns and colors as you want them. Both the fabric type and color will depend on your need for the ambiance.
Step 6:
Now, you can cut the fabric as per the light measurement you took. Please don't make it too short that it doesn't cover lightly entirely. Also, you should not keep it too big either.
Step 7:
This would be the last step to set the fabric. Use some binder clips to cover the lights.
Tips:
Make sure you're choosing the fabric color wisely. If you're expecting a cozy ambiance in your place, go for colors like yellow, blue, or green.
You can also choose the color type according to the furniture or wall color combination. This will bring out the attractive interior of a room.
If you're looking for soothing and dimming lights, try to use some sheer fabric.
Using a drywall screw is not necessary. But we would suggest grabbing one for a better and secure adjustment.
You should recess the older installation to keep yourself safe from any fire hazards because of overheating of fluorescent lights.
Make sure your fluorescent lights are not holding any poor lamp maintenance. For that, keep giving frequent checks on the lights.
Why Should You Cover Your Fluorescent Lights?
Fluorescent lights are most common for their detailed lighting system. These types of lights can give effective lighting to every kind of ambiance. People these days tend to use these in kitchens, offices, stores, and malls too.
But honestly, these lights alone can kill the vibe of your room decoration. That's the reason most interior designers cover them up with fabric or other materials. Well, if you're not that willing to spend money on these tasks, give them a shot by yourself.
Not only this thing, but you can also save yourself from the adverse health effects of radiation. Covering the fluorescent light will provide you a much smoother and softer ambiance for relaxation. Even experts suggest making it covered after hanging to have the ultimate protection for your skin and eyes.
If you want a scientific explanation, then the effects sound most dangerous here. The beautiful fluorescent lights can create the emission of UV ( ultraviolet radiation). Besides, these lights tubes are coated with unhealthy substances, such as phosphorus. These are definitely a threat to your skin and eye glare.
All these issues can get controlled by covering these lights up properly. Well, there are many ways to do the tasks. But among all, covering fluorescent lights with fabric would be a handy solution. The entire task is super easy to go and can bring a lot of advantages to beautify your room and ensure your good health as well.
Read Next: Tips & Tricks on How to Cover Headboard with Fabric
What Type of Fabric Should I Use to Cover Fluorescent Lights?
The handiest materials to cover fluorescent lights are colored sheets and fabrics.
You can use various things and tricks to hide these lights. But among all of these, the fabric would be a cheaper and easier option. Also, by using fabric, you can create different designs and decorations for your room. Besides, the fabric adjusting procedure for covering fluorescent lights is relatively easy.
We recommend using sheer fabric to cover fluorescent lights. This fabric is pure natural like cotton or silk. It is lightweight and it will not block the beautiful view of the fluorescent bulbs as well. Therefore, this type of fabric will benefit you in two ways – preventing unhealthy rays from fluorescent bulbs and enhancing the overall beauty.
Next Read: How to Cover Fabric Kitchen Chairs
Is it Safe to Use Fabric for Covering Fluorescent Lights?
Well, it's true that fluorescent lights are not 100% safe. But you can avoid all the hazards by giving it some regular checks and following some basic tips.
If the Fluorescent lights get overheated, they might create blasts and fire to the fabric cover. So, you must make sure that the lights are not getting overheated. Also, the flammable materials should always be kept away from the lights. Any minor explosion can end up as a major accident because of the combustible materials.
You should never keep the lights on when you're going out. This will increase the electricity bill as well as fire hazard risks. Leaving the fluorescent lights on for a long time will undoubtedly increase the heat level and create fires to the fabric cover. Even when you're using a table cloth, overheating is able to melt that fabric too.
These are the simple but crucial things that one should remember while covering fluorescent lights with fabric. By following these, you can find the covering process completely safe.
Frequently Asked Question
Question: Can I paint a fluorescent light fabric cover?
Answer: You should not paint the fabric cover once you've adjusted the fabric. This will include evaporation and damaging risks of your fixture. So, you should always use fabrics that are already painted.
Question: Where can I get the best fluorescent lighting fabric covers?
Answer: For designs and varieties of fluorescent lighting fabric covers, you can go to the fluorescent light gallery. Also, there are currently many online suppliers to serve you with exclusive fabric collections for covering purposes.
Conclusion
Fluorescent lights are trendy for decorating and saving energy. But using these without covering can cause significant hazards to your health, skin, and eyes. Also, without covering the lights, it can affect the decoration of your place.
However, this article has explained about covering fluorescent lights with fabric. You can follow the mentioned tips and enjoy the all good from fluorescent lights.