Fabric steamers also are known as garment steamers, clothes steamers. Fabric steamers are a great option to keep clothes and fabrics wrinkles-free. A fabric steamer can provide a wrinkle-free experience. Fabric steamer is easy to use, as long as you know how to do it the right way. In this blog post, I'll share some tips and tricks on how to use a fabric steamer.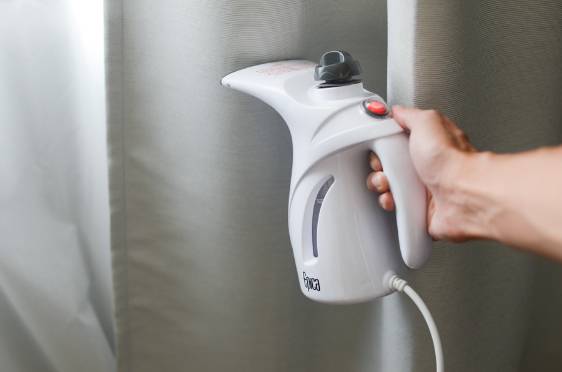 So, read this full article. You might get some extra benefits from this content.
How Does Fabric Steamers Works?
A fabric steamer is a handheld device. That needs to place water in the tank and is heated until it becomes steam.
And the steam is directed at pressure through a nozzle to the fabrics and clothes (garment). And the heat relaxes all the fibers in the fabric, which eliminates the wrinkles in the fabrics (clothing, garment).
Learn How to Use a Fabric Steamer Step by Step:
A. Prepare Your Fabric Steamer:
At first, pour water into the tank of your fabric steamer. After that, make sure that all the parts of your steamer are secured perfectly because you don't want to leal water all over the place. That's why check once again to make sure that all the parts of your steamer are secured perfectly. And then plug in your steamer, typically steamers heat up fairly quickly (1to 3 minutes).
You should allow your steamer to heat until steam begins to form, you must be sure to let your steamer warm up all the way in order to get better results. And make sure that your steamer steaming well before you use it.
Check how well it's steaming by pulling the trigger on the handle/pressing the button, and find out how much steam issues when you release. This button is the same button you'll use when you steam your fabrics/clothing.
B. Hang The Item That You Want

to

Steam:
It will be much easier to steam an item when it's hanging. Additionally, upright steamers have a hanging pole attached for clothing.
So, if you using an upright steamer, you don't have to worry about hanging your items. But if you using a handheld steamer, you can hang your item on a hanger and then place it on a doorknob, shower rod, or anything.
C. Now Steam Your Item

by

Running Tour Fabric Steamer:
When you steaming your clothing, you don't need to push or press hard the fabric against anything, your steamer will remove wrinkles perfectly on its own. When you slide the steamer down to your item, press the steam button every so often to apply steam to your item.
Additionally, you've got the option to use a handheld pad as the surface to steam your items on, though it's not necessary. But it will be a helpful option when you steaming wrinkly clothes.
So, when you decide to use a pad, just slip it over one hand and then use your other hand to hold your steamer. If you steaming extremely wrinkly clothing items, then you should steam from the inside of your item, or underneath the item.
The weight of your item against the steamer will help to remove the wrinkles ore quickly. When you steaming your fabrics with embellishments such as ruffles, pleats, etc, just hold your steamer at a distance of one to two inches from your fabric.
If you do this, it will allow your fabric to keep its shape when your steamer de-wrinkles. Also, if your item is extremely wrinkled, then you can also turn your item inside out to steam the fabric without damaging the embellishments.
D. Let Item

for

Drying:
Once you've finished steaming, your item will feel a little damp. Also, you can find some water spots on your item. If you see this, don't be worry, this is normal and your item will dry soon.
Just let your item sit for 7-12 minutes after steaming and before you wear it again or hanging it on your closet back.
Some Tips for Choosing Fabric Steamer:
A. Decide First, How You Going to Use Your Steamer:
Before you purchase a fabric steamer, decide first which steamer you want to buy.
Are you searching for a steamer that you can carry with you, or do you want a steamer for your clothes that will stay in your laundry place? You'll find that some fabric or garment steamers are easy to move, and some garment or fabric steamers can take more place than others.
Also, some fabric steamers are handheld and some stand upright. So, decide first which steamer you want!
B. Using Upright Fabric Steamer:
The upright steamers are sometimes referred to as floor steamers because their base sits on the floor. Upright steamers typically include a base where the water tank sits, also a hose attached to a nozzle and a pole with a clothing item hanger at the top.
Also, these upright steamers typically sit on the wheels, so that they can be moved very easily.
So, if you want a steamer that can sit in one place, the upright steamer would be an ideal option for you. But also, you can move an upright fabric steamer from one to another place, if you don't mind moving something that is a little bit larger. If you want to steam lots of garment items, you can select an upright steamer.
Most of the upright steamers come with an attachment, such as different types of brushes for different types of items.
C. Using Handheld Fabric Steamer:
The handheld steamers are much smaller than upright steamers. These handheld steamers can be easily kept in your car or easily packed in your luggage.
If you need a fabric steamer while you traveling, handheld fabric steamers can be an ideal option. These steamers combine the water tank and the nozzle into one device. Handled steamers typically weigh a couple of pounds.
You'll find some handheld steamers that come with attachments like different nozzles and lint removers. And also, some handheld steamers come with a small padded square with a strap that slips over your hand.
The pad can be very helpful when you're steaming your fabrics because it can prevent your hands from burning.
Knowing When to Use a Fabric Steamer:
A. Which Fabric Can be Steamed and Which One Not:
A fabric steamer works great for most fabrics, steaming is a delicate method to de-wrinkling. So, at first, you have to find out which fabric you can steam. Silks, wools, cotton, and polyester fabrics can be steamed. And suede, waxed jackets, or fabric that may melt, these fabrics should not be steamed.
If you're not sure that your fabric can be steamed or not, then carefully test the steamer on a corner of your fabric before you use it all over.
You must always read your fabric care label to find out your item can be steamed or not.
B. Must be Careful When You Steam Delicate Fabrics:
Fabric that is made from chiffon, silk, velvet, or sheer should be treated with extra care.
So, when you steam these types of fabric, keep a few inches of distance between your steamer and fabric. And make sure you don't steam in one place of your fabric for a long time.
Also, to avoid damaging embellishments or prints, just steam the item inside out to get rid of wrinkles so that you can do it safely.
C. Use a Fabric Steamer Instead of An Iron:
Steamers and irons are both works to take the wrinkles out of fabrics/clothing. Though irons and steamers, they each have their own perks. Especially, irons are good on less delicate fabrics such as denim, cotton, and they're ideal for pressing creases onto fabrics.
On the other hand, steamers work great on a larger variety of fabrics, and they're less likely to damage fabrics/clothing.
Additionally, steamers are used on items when it's hanging, so steamers don't work well if you want to press or crease fabrics. A steamer is more portable than iron, so steamers are ideal for those people who love to travel a lot.
Final Words:
When you use a steamer don't put too much or too short water, just put the correct amount of water. To do this, read your steamer direction label. And before you steam your fabric always real your fabric care label.
Hope now you know the right way to use a fabric steamer (garment, clothes steamer). Stay well, see you soon, bye-bye!
Read more about how to clean a fabric steamer