Hello everyone!! how's it going? I'm David Johnny here and In this article, I'm going to give you some tips on fabric glue. If you've arrived here, it's because you have some upholstery that has come loose or some piece of fabric (clothing) that you need to fix without sewing.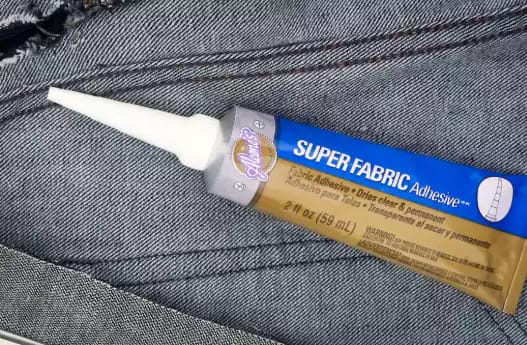 So, if you want to learn more about how to use fabric glue, then read this full content. I hope, you'll learn a lot, and next time your job will be much easier.
Types

of

Textile Glue
If the fabric you're going to stick is synthetic or natural fibers, then I advise you to use TEXTILes. It's resistant to washing and ironing.
It takes about 2 hours to dry. If you're going to use cotton fabric, jeans, you can also use Atex adhesive textile. It's a transparent adhesive, and you can wash and iron the clothes without a problem.
Tips

for

Pasting Fabric
The main problem when you go to buy textile glue is that it doesn't stain the clothes.
If the glue for clothes is not of good quality or is not the right one, it will leave you with a very ugly yellow blotch.
Clean the fabric very well before applying the adhesive. Make sure you don't leave any remains on the surface of the fabric.
Once clean, let it dry completely. If the fabric is wet or damp, the fabric may come off later.
If possible, use a glue spray. In this way, it will be very easy to cover the area without lifting the fabric.
First, apply the spray on the fabric, and then where you'll stick the piece.
It's a good idea to wait a few minutes before putting the fabric together with the piece you're going to paste.
Spray glues can usually be obtained in specialized craft stores, or in the bricolage section of a large area.
Read more about how to remove nail glue
A glue brand for fabrics that works really well is Gutterman. It will not leave any color and is ideal if you do things like Patchwork, but it has a higher price than the rest of the fabric adhesives.
Here I Leave

an

Explanatory Video That Will Teach You How

to

Use Fabric Glue

on

Clothes:
Don't Use Water with The Fabric Glue

for

clothes
I hope, now you have some idea on using fabric glue. If you're going to stick the fabric, be careful after washing.
The water can end up taking off the fabric. If you want to do some crafts that need to go through the washing machine, it's best to sew the clothes.
Anyway, if you purchase good glue, water-resistant, you'll not have that problem. But make sure, before you wash your clothes, and you'll avoid unpleasant problems.
Conclusion:
I hope now you can easily use fabric glue on your clothes. Don't forget to watch the video. Keep well, See you soon.