If you want to buy a shirt from the market or you want to make a nice and cool shirt at home. At first, you have to know which is the best fabric for shirts, whether you buying or making a shirt.
If you know how to make shirts just buy fabric and make it, but if you don't know how to make a shirt, just buy the fabric and go to a tailor.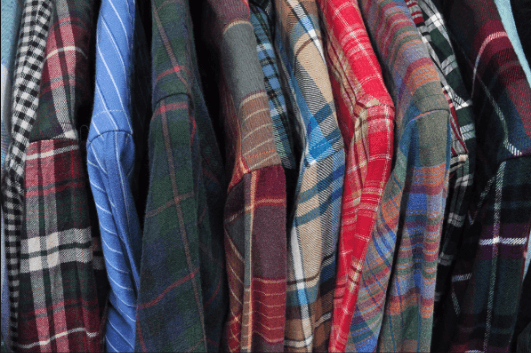 In this article, I'm going to talking about some fabrics which are mostly used to make shirts,
Read this full article to Purchase quality shirts or fabrics for your next project, You can buy fabrics online, or you can visit your nearest fabric store to buy fabrics for shirts.
Hope this fabric for shirts content will help you a lot in choosing new fabric for making new shirts.
Also, I hope you'll enjoy this content as well. So, if you want to learn more about which is the best fabric for making the shirt, read this full content.
Read more about painting t-shirts
Now Learn More About What

Is

The Best Fabric

for

Shirts:
Here's The List

of

Fabric

for

Shirts:
1. Fine Cotton Fabric
If you have money, I mean if you have a budget to purchase good quality cotton such as Pima, Egyptian or Swiss cotton fabric of two-ply cotton with a high thread count,
At last, 170 to 230 you don't need to read other types. Just go to the market and buy it because a shirt made with these will stand all the tests of time and wear, It makes you look elegant.
Egyptian, Swiss, American Pima cotton fabrics, are the most desirable and best for making shirts. They're very good that's why expensive as well.
These fabrics are all made from the fibers of the same plant with cotton termed as extra-long staple length. This means these fabrics can be made into fine and strong yarns.
They're softest with very high thread cotton. And they have a two-ply construction. Egyptian cotton fabrics are the finest, American Pima fabric comes second.
The Egyptian cotton, Giza 45 is best but if you want to buy shirts are made with this fabric, you have to pay more money because Egyptian fabric makes the most exclusive shirts in the world.
American Pima cotton fabrics are also high quality and quite cheap fabric with a soft and smooth finish. This is very popularly used for shirts. It has a horizontal ribbed texture which is attractive.
2. Broadcloth Fabric
Broadcloth fabric is one of the most popular types of dress shirt fabric. This is a very lightweight, smooth, flat-looking fabric, with no pattern in the weave of the threads. Broadcloth fabrics and Poplin fabrics are essentially the same types of fabric.
Broadcloth is similar in quality to pinpoint fabric, but it has less texture. Broadcloth fabric can come in a variety of thread counts, from 50 singles to over 140 doubles.
The broadcloth fabric makes for excellent wedding dress shirts or business interview dress shirts.
Also, you can make casual dress shirts because it's a lightweight dress shirt fabric. Broadcloth works great for all year-round wear.
3. Poplin Fabric
Poplin is the most popular fabric for making shirts. This is a plain weave fabric that is Breathable, Cool, and Smooth. Good quality Poplin fabric is a superfine tightly woven, Top-quality fabric. It's a very favorite fabric for making shirts. This is soft and smooth to the touch.
If you want a completely opaque fabric, this is not perfect for you. It's thin and ever so slightly transparent, but this makes it lightweight this is an advantage of poplin fabrics.
Poplin fabric is a great fabric for making shirts that you can wear anywhere anytime, especially formal shirts.
4. Linen Fabric
There are nothing more elegant clothes made of linen. Linen gets better with age and washing. It's loosely woven and sheers then cotton. And it's the most suitable fabric for wearing in hot summer.
But linen wrinkles a lot and is not the most drapey- must keep on your mind it slightly crisp Which is adds to its look of elegance.
If you don't mind the disadvantage and you would like to want a fabric that is natural and breathes, nothing like linen.
5. Flannel Fabric
Flannel is a great and favorite thick weave heavyweight fabric for winter wear shirts. If you want to make a winter wear shirt, You can buy this fabric.
You can find 100% cotton or a blend of Cotton/Wool and Cotton/ Cashmere flannel fabric in the market. Flannel fabrics are warm. It has a soft fuzzy feel.
This fabric also called brushed fabric, When it brush to remove its lint and fibers. It's very soft to the touch and very suitable for winter wear.
6. Gabardine Cotton Fabric
It's a medium-weight twill weave fabric. Gabardine fabrics can make from wool or cotton fiber.
This fabric is the best fabric for making workwear shirts, Overcoats, and suits because it's durable and it comes with long-wearing qualities,
These fabrics don't wrinkle easily and drape. You can make strong shirts with them.
7. Oxford Cloth Fabric
Oxford fabrics have a slightly coarse and heavy texture. It's soft, breathable, and durable. You can make shirts with it to wear on a daily basis.
This fabric is suitable for workwear/casual/sportswear. If you want to make a daily basis shirt, You can purchase this fabric.
It's not a bad idea to have/make an oxford shirt for workwear, sportswear.
8. Chambray Fabric
This is soft, shiny, thin, and lightweight cotton that looks similar to denim fabric. It's a good option for you when you want to look sharp but feel cool.
When you want to make summer wear shirts, you can buy this fabric to make your shirts.
9. Pinpoint Fabric
Pinpoint fabrics are weight slightly rough shirt materials which are warm, durable, and breathable.
Pinpoint is not suitable for formal fine office wear dress but is suitable for casual/sportswear/ workwear.
So, if you want to make or buy workwear, sportswear, or casual shirts you can choose this fabric.
10. Seersucker Fabric
It's primarily used to make shirts for warm, seersucker fabric known for its distinctive, puckered appearance.
If you want to make shirts for warm weather you can purchase this fabric.
While seersucker fabrics come in any colors or patterns, but blue striped seersucker is most popular.
11. Dobby Fabrics
This wave is created using a small geometric pattern that repeats thought-out the fabric. Dobby fabric is slightly heavyweight, This fabric become popular in the 1950s.
Dobby fabric is an excellent choice for work-wear shirts. If you want to make workwear shirts you can buy this fabric.
12. Houndstooth Fabric
This fabric comes from a twill weave. Houndstooth fabric is durable, soft to the touch, and is heavier than cotton, silk, and poplin.
Also, this is a strong fabric. You can make formal and casual shirts with this fabric.
13. Denim Fabrics
All We known is denim fabric as jeans making fabric, which is good for jeans. denim fabric made out of twill weave. it's durable, and heavy-weight fabric.
Also, you can make winter wear shirts from denim fabric but not from all denim fabric.
You can make a winter wear shirt from black-black denim fabric. And from printed denim fabric you can make casual and same-formal shirts.
14. End

on

End Fabric
The End-on-End fabric is woven with threads in two different colors for a subtly irregular, And yet richer texture.
This is a very popular fabric for dress shirts. End-on-end fabric is a light, thin and comfortable fabric.
This is suitable for solid shirts. End-on-end shirts match well with a proper suit, but this fabric also goes with a pair of khakis, It's a good choice to pick for all year long.
15. Royal Oxford Fabric
This is what we call pretty fabric. The name is similar, but it's not at all similar to the pinpoint oxford or oxford cloth fabric.
It's also a dressy fabric with a distinctive shine and texture. Royal oxford is an ideal fabric for those who are interested in a dress or formal shirt with visible texture.
16. Melange Fabric
Melange fabric is another great fabric, It can come in every sort of weave poplin, twill, royal oxford, etc, and is woven using multi-colored yarns.
You can buy this fabric to make your shirt or you can buy a shirt that is made from melange fabric.
17. Satin Fabric
Satin fabric is A type of textile weave, This is somewhat shinier than the average Poplin weave. The satin fabric gives an exclusive look to the shirt.
The weave is most classically used with silk thread, also it can be used with other materials. The Satin fabric shirts work well under a jacket.
Read More About how to remove ink stains from clothes
Final Words
When you plan to buy fabric for shirts, keep in mind which shirt you want to make, And Remember to choose only those fabrics which are made with 100% natural fibers.
I hope you'll pick the perfect fabric to make your own shirt, also this article will help you to pick the best shirts.