Painting t-shirt is a great way to have some fun and new design. If you want to have a specific t-shirt for a party, rally, event, or something else but you don't find the right one? Or do you want to make your t-shirt a different look?
Do you know you can decorate your t shirts yourself with fabric paint! In this article, I'm going to show you how to paint t shirts with fabric paint at home.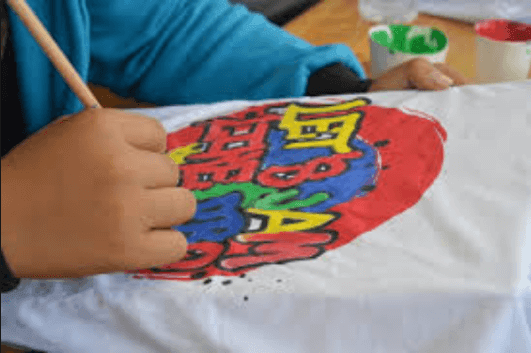 When you want to write on your t-shirt you can use fabric permanent markers. If you want to know about how to decorate t-shirts with fabric paints, read this full article to learn more.
Hope this article will help you a lot with painting tshirts & you'll enjoy the article as well.
DIY T Shirts Painting Types
There're lots of different ways to paint your t shirts, but stenciling, freehand, and tracing are the best ways to decorate a shirt.
Free Hand
This is the funniest way to painting a t-shirt, You could always make a design with a pencil first, or you can go freely.
But I recommend you to make a design first on your shirt with a pencil and then simply dip your brush in some paint and start writing out a message or a design.
Also, you can use permanent fabric markers (if you do a little design use a marker but if you want to do more painting use liquid fabric paint).
Tracing
In this method at first, you have to print out a design on paper, after that, you have to put it inside the shirt then you can trace the outline and it will be easy to follow.
If you follow this method easily you can draw a design or write words on your shirt.
Stenciling
If you want to use this method, you have to print the design or message on freezer paper,
Once you've done cutting the design and then set the design on top of your shirt where you want to make the design.
Also read: How to dye fabric step by step
Now Learn More About How

to

Paint T Shirts with Fabric Paint

at

Home
Here I'm gonna show you what tools and materials you'll need, and then show you how to paint tee shirts step by step.
Some Tools

and

Materials Needed

to

Decorate T Shirts with Fabric Paint:
Before you start painting, you have to buy these materials and tools, If you have an iron, hairdryer at home you don't need to buy it, just use your old one.
Try to buy high-quality fabric paints for t shirts, if you want to write on your shirt you can buy fabric markers, but if you want to do a design you can buy liquid fabric paint.
To buy these tools and materials, you can visit your nearest craft or fabric store, or you can order them online as well.
Any color fabric paint
Any color t-shirt
Reynolds warp freezer paper
Cardboard
Painting gloves
Iron
Paintbrush
Wash Your T Shirts
If you want to paint your old shirt before you start painting you can wash your shirts and dry them to get better results.
Even new t-shirts you can wash before you paint. So, before you start painting your t-shirts, make sure to wash them for perfect results.
Cut

and

Put The Cardboard Inside The T-shirts:
Nicely measure out the size of your shirts and cut the cardboard with X-acto knife to fit inside your t-shirts. And put it inside your t-shirts.
Print Your Own Designs:
At first, you have to cut your freezer paper. Cut the freezer paper 9″ by 12″ to make it fit in most printers.
You can print pretty much design what you'd like to do. It could be anything like your logo, a sentence, a joke as long as it can fit in your freezer paper.
After you print out your design, cut out the areas of the picture that you want to show up on your shirt with the Xacto knife.
This method is called stenciling. This stenciling method is one of the most popular t-shirt painting methods.
Iron The Freezer Paper

on

The T-shirts:
Now you can iron the freezer paper plastic side down, exactly where you want to design on your t-shirts.
The main reason why you use freezer paper is that when it's ironed it sticks until you take it off.
You must make sure the iron is adequately so that the freezer paper sticks on the shirts.
Start Painting Your T-shirt:
Before you start, wear your painting gloves. Now you have to use the paintbrush to paint your shirt, paint a layer of fabric paint on the stencil and be messy as you'll like because only the design will show up!
Typically, one layer of fabric paint is not enough You can add a second or third layer of fabric paint. To get the right design, make sure you paint the whole image evenly.
Also, you can use fabric spray paint to paint your shirt. If you decide to use fabric spray paint at first shake the spray paint can, after that hold the paint can 7 to 9 inches away from your t-shirt and then spray the paint.
Dry the paint for 15/20 minutes, if it's needed once again spray the paint on your design.
Dry

or

Heat Set Your Painted Shirts:
After you finished painting then dry your shirts before you wash or wear them. It's time to use your hairdryer to dry your shirts or you can put your shirts under the fan to dry and allow them to dry properly.
Enjoy Your T-shirts:
Finally, you finished your painting on your t-shirts. Now you can wear it, before you wear it you can wash it or if you did before you start painting you can wear it without a wash, but better to wash it first than wear it.
Last Words:
I hope this "painting t-shirts with a fabric paint guide" will help you a lot and you'll enjoy painting your own t-shirts, always use cardboard or foam inside your t-shirt.
If you want to paint more t-shirts, purchase enough fabric paint. And don't forget to wear panting gloves.
And before you start painting your t-shirts with fabric paint, always make sure to wash your t-shirts.