Painting with fabric paint markers pen is easier than painting with fabric liquid paint or spray paints. Particularly it's very useful when it comes to painting thin lines.
When you want to write your name or you want to write some words on your fabric, paint pens and marker is a great solution for you.
You can easily write on your fabric or t-shirts, shoes, canvas, your fabric pillowcases, and many other more with a fabric marker.
In this article, you'll learn about what is fabric markers and how to use fabric markers.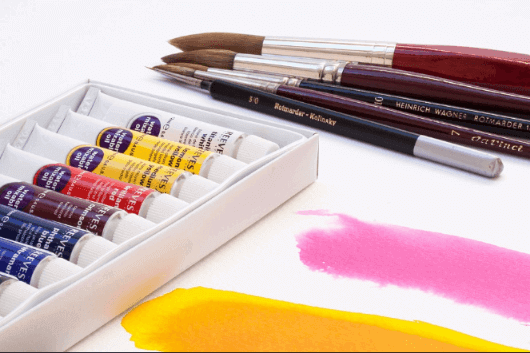 Also, when decorating your fabric with your fabric marker pens, you don't have to use a paintbrush. So, there's no paintbrush to wash after your project.
You can easily learn how to use fabric markers, it's not a hard task to do. I'll make sure to give you some tips for using fabric markers that you can do it perfectly.
What

is

Fabric Markers?
A fabric marker is a marking paint pen, that you can use for paint or write on your fabric. It's very effective for writing/lettering on fabric.
Fabric paint markers contain dye, paint, or ink. It's designed not to wash out from clothes, or fade with washing for a long time.
Read Next: more about fabric stores in NYC
Tips

for

Using Fabric Markers: Learn How to Use Fabric Markers
You can paint on fabric with a fabric marker by making your own designs.
Also, you can lettering on fabric with fabric markers, Stamping with fabric markers, or Stenciling. So, do what you want, also you'll have some fun as well.
1. Pick The Fabric

to

Decorate:
The grain of the fabric has an impact on how good fabric markers works.
Coarse Grain or rough texture to fabric means, there're lumps and bumps, the fabric marker pens have to go over. Smooth fabric or a fine grain fabric is easier to work on it.
But if you have any doubt, before you start test markers, just find an old piece of similar fabric that you want to decorate and then test it first.
2. Clean Your Fabric

for

Painting:
Once you've selected the fabric (it can be t-shirts, canvas shoes, handbags, and many fabric materials) for decorating, then clean it.
I mean wash it to clean any dust or chemicals from it and for better results.
Make sure to dry it perfectly to make it ready for painting on it.
3. Thick Lines

and

Thin Lines:
With fabric markers, you'll be able to make a thin line or thick line on your fabric.
Fabric markers come in various sizes and shapes. You can get them from thin to thick to brush style tips.
If you'd like to get a wider line from fabric markers, don't press down on the tip, because if you press, it can damage it.
4. Using Fabric Markers

for

Lettering:
May you like to write some words and numbers on your fabric materials.
I mean if you want to decorate your sports t-shirts or any special day t-shirts, fabric markers will be the first choice to do it.
Lettering is very easy with fabric markers rather than using a paintbrush, before you start a project, practice it (use an old fabric). Practice will help you to make neater letters, and very perfect.
5. Painting Large Areas:
If you want to paint a large area with fabric markers paint, you can do it, but it will finish up your markers fast.
I recommend you to use fabric liquid or spray paint when it comes to painting a large area.
It's cheaper to use fabric paint rather than fabric markers for large areas.
6. Use Fabric Markers

for

Stenciling:
You can easily stencil with fabric markers on your fabrics, it's not a difficult work to stencil with a fabric marker. Fabric markers pen works very well with stencils.
Make a stencil design and paint your fabric with fabric markers.
7. Use Fabric Marker

for

Stamping:
Stamping is another great way to paint a piece of fabric with fabric markers.
Here also fabric markers work very well, you can use a rubber stamp or any flattish stamps or non-absorbent stamps.
The technique is very simple and easy. Just simply add color to the stamp by running your fabric marker over it, then take the stamp and put it on the fabric where you want to design and press down firmly, you'll see color comes off from the stamp onto the fabric.
If you want to paint fabric with a stamp, you have to work fast, because if you take longer to paint your paint will dry on the stamp.
You can test it on an old fabric to see how does it work, then start your real project.
8. Allow The Markers Paint to Dry Completely:
After you've done the painting, You should allow the fabric marker paint to dry completely (you can dry it for three to five days).
But if you use a dryer it's not going to take a long time. Better to test it to ensure it's dry.
9. Heat Setting Fabric Marker Paint:
This is the last step for painting on fabric with fabric markers. Plugin your iron to heat set. Heat up your iron to a medium temperature.
Lay your painted fabric in a clean place and put a towel or cloth over it, And iron it with your heated iron evenly, Apply heat for 15 to 20 seconds.
Final Words
I hope you'll be able to decorate your fabric with fabric markers at home. And try to make different designs, and show your creativity. Before you start painting, shake the fabric markers.