Fabric sofas are available in a variety of types, colors, and designs. It's one of the most important pieces of furniture for our drawing room or guest room. Sofa makes our room very nice and attractive. If we've kids and pets, Always they like to play on it. Also, we're relaxing, watching TV on it, In this case, an upholstery Sofa gets dirt quick and faster than any other type of furniture. Do you want to know how to clean fabric sofa upholstery at home? If you do! So, read this full article. In this article, I'm going to show you different ways to clean them.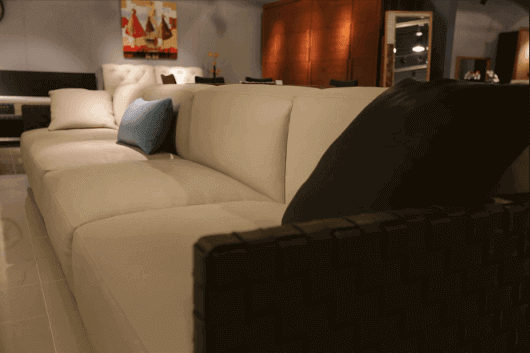 You could do this job in your free time or on a holy day. There're many ways to clean sofas like you can use a steamer, vacuum cleaner, clean them without steam or vacuum, use water or without water to clean fabric sofas. Let's get started.
Before You Get Started Find Out The Cleaning Code:
There're some important factors you have to keep on your mind when you want to clean an upholstery fabric sofa "At First, You need to review the manufacturer's instructions.
If you can't find manufacturer instructions on your sofa Don't worry! There Should be a tag on your sofa cushions, that will help you to clean them in the right way.
Always Check your sofa cleaning code to clean them properly. Keep in your mind that may you get two tags, One will guide you to clean the sofa cover, And the other one will provide you to clean the sofa cushions.
Don't try to clean your sofa without reading the cleaning code.
Typically you could see four types of cleaning tag/code, which are W, S, W/S, X.
Here

's

The Meaning

of

Each Cleaning Code:
1. W: W means you can use only water-based products for cleaning your sofa.
2. S: Tag S means you have to use a solvent-based cleaning product, You can't use water-based products for this tag.
3. S/W: Cleaning code SW means you can clean the sofa with water or solvent-based cleaning product.
4. X: If you see your sofa has an X tag, that means you have to use a vacuum cleaner to clean the sofa.
How to Clean Fabric Sofas

at

Home: 3 Ways
Method 1: Clean Your Sofa with

a

Steam Cleaner
If your sofa is marked with "W or S/W" you can use this method, Make sure you pick the right method by reading the sofa cleaning tag.
Cleaning a sofa with a steam cleaner not only helps you to clean it up Some cases it can also restore your sofas to almost new condition If you know how to properly clean a fabric sofa with a steam cleaner.
But if you do not clean a sofa properly with a steam cleaner, your sofa may not look as good as it can, or even you can damage it.
Tools

and

Materials Needed:
Vacuum cleaner/Hand Broom.
Clean Towel/Cloth.
Warm Water.
Upholstery Cleaner(Soap).
Upholstery Cleaner Spray/Sofa Cleaner Spray.
Step 1: Prepare Your Sofa Fabric:
At first vacuum up with brush attachment your sofa to remove pets hair, dirt, dust, and debris, etc. If your sofa has any pillows or sofa slipcovers, vacuum them too.
Make sure the sofa is marked with "X" tag, if it's not! use dustpan and hand broom/brush rather than vacuum.
Step 2: Pre-Treat The Sofa Stains:
If your sofa has any apparent stains, Spray the areas with upholstery cleaner, sofa cleaner spray, or steam cleaning stain pre-treater then wait for enough time.
If you use a steam cleaning stain pre-treater wait for 15 to 20 minutes and if you use an upholstery cleaner wait 5 to 10 minutes.
When you've waited for enough time, Bold the areas with dry, clean, soft cloth And then pilling out the stain and dry up the cleaner.
Step 3: Choosing

and

Preparing The Steam Cleaner:
Pick the right steam to clean an upholstery sofa. There're many kinds of steam cleaners available, like upholstery steam cleaner, fabric steam cleaners, and handheld steam cleaners. The Upholstery steam cleaner is specially made for this job.
Prepare your steam cleaner to start cleaning, Fill the tank/container with warm water and upholstery cleaner, Don't fill the tank/container too full.
Add the attachment perfectly for upholstery. Check the operating instructions for the use upholstery attachment.
Step 4: Test, How Does

it

Work:
I recommend you to test how does it work, clean a small area, and bold the area with a dry and clean white cloth or towel.
If you see a large amount of colors transfers to the cloth/towel don't clean the whole sofa. But if you see no color transfers or transfers little then clean your whole sofa fabric.
Step 5: Start Cleaning:
Now clean the upholstery of the sofa. Use slowly, even strokes that are slightly overlapped. Clean pillows or cushions for your sofa on a clean towel or clean cloth, on the floor.
Step 6: Dry Sofa Fabric:
This is the final step, once you've steam cleaned your sofa upholstery Leave your sofa to dry completely. You can use a dryer, or you can use a fan to dry.
Read more: How to protect sofa fabric step by step easily
Method 2: Clean

a

Sofa with Vacuum

and

Vinegar
At first, you must check the sofa cleaning code. If your sofa is marked with an " X" cleaning tag, you can use a vacuum to clean up. This method you should use for W and W/S cleaning code.
Tools

and

Materials needed:
Vacuum With An Upholstery Attachment.
Clean And Dry Towel/Cloth
One Bucket/Bowl.
Distilled Water.
White Distilled Vinegar.
Dish Soap (Liquid)
Step 1: Make Ready Your Soap Solution:
In the bucket/bowl put 4 cups of distilled water, 2 tablespoons of white distilled vinegar, 2 tablespoons dish washing liquid soap and mix it until it mixed perfectly.
Step 2: Vacuum Up The Sofa:
Before you start cleaning with soap solutions, Vacuum the sofa to remove all the dirt, dust, hair, and debris, So you're not going to rubbing in dirt or debris.
Step 3: Test The Soap Solution:
At first, check what did you made, clean a small space with your sop solution, If you see everything is right then going on to clean the whole sofa.
Step 4: Clean The Whole Sofa:
Take the clean and dry towel/cloth and put it into the soap solution that you've made. Now gently bold the stained areas with the towel/cloth.
Now wet a clean and dry towel/cloth with distilled water, this step doesn't use soap solution or vinegar.
Bold the area with a wet towel/cloth to remove the remaining soap. After that use a dry/clean towel/cloth to bold the area again one more time.
Step 5: Dry Your Cleaned Sofa:
Before you use it again allow it to dry completely. You can point a fan or you can use a dryer to dry completely.
Next Read: how to clean fabric shower curtains
Method 3: Clean

a

Sofa Fabric with Baking Soda
Baking soda is one of the most useful stuff to clean fabrics.
Here's The List What You'll Need:
baking soda.
Clean and dry towel or clothes.
Vacuum with a brush attachment.
Step 1:
Wipe your sofa with a dry and clean towel, or you can use a stiff brush if you have, To get the dust off from it.
Step 2:
After you've removed the dust, sprinkle baking soda over the sofa and wait for at last 25 minutes.
Step 3:
When 25 minutes have gone you can take the vacuum cleaner and vacuum the sofa.
Step 4:
When you've waited enough time, vacuum baking soda on your sofa with the brush attachment.
Step 5:
Now Spot clean any stains that remain on the sofa with a clean and dry towel/cloth.
Video Guide

for

Cleaning Couch & Sofa Fabric with Laundry Detergent
Last Words:
Always read the cleaning tag before you start cleaning your fabric sofas, and try to clean them the right way.
Don't just pick a method and start, because if your sofa is marked with tag S, and you use a water-based solution, "In this case" you may finish with damage. So be careful, read the cleaning tag properly, then move forward to clean your fabric sofas.
Also, before you start cleaning your whole sofa spot test the cleaners on a hidden area of your sofa to make sure they won't damage your sofa fabric. Hope now you know how to clean the sofa, sectional sofas, or couch fabric and you can do it yourself.