A sofa is one of the most expensive pieces of furniture. The sofa is an item of furniture and a place where your friends and family members gather, that's why sometimes your sofa gets spills.
Especially, if you have kids or pets, your fabric sofa might get dirt and stain twice faster. In this article, I'm gonna share with you some tips and tricks on how to protect sofa fabric.
Doesn't matter what type of upholstery fabric covers your sofas. Your kids, pets, and daily use can damage your sofa. After years of use, your sofa will look dirty, stained, and old.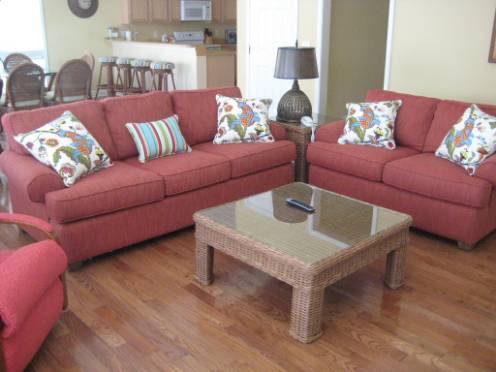 But if you follow the right protection techniques, you can keep your sofa looking nice and new for a long time.
Learn More About How

to

Protect Sofa Fabric Step

by

Step
Tools

and

supplies you needed:
A. Upholstery Vacuum cleaner
B. White cotton towel or lambswool duster
C. Fabric protector
Some Basic Care Tips:
Number 1:
You must vacuum your sofa weekly. Just take off your sofa cushions and then use the crevice tool to remove the small particles beneath them.
Number 2:
Also, flip your sofa cushions and rotate them after 2 weeks or monthly
Number 3:
Dust your sofa each and every week with a lambswool duster or with a clean white cotton towel.
Number 4:
When you buy a new sofa, buy a commercial fabric protector too. And then spray your fabric protector on your sofa, and then annually spray a commercial fabric protector on your sofa.
Important Tips:
Tip 1: When you want to use a fabric protector on your sofa, first test your sofa for colorfastness after that use it. And also, when you spray a fabric protector, just cover surrounding non-fabric materials.
Tip 2: When you want to paint your house, cover the sofa with a plastic sheet to protect it.
Install Sofa Slipcover:
Step 1:
Remove all throw pillows from your sofa.
Step 2:
After that, drape the sofa slipcover from the front to the back of your sofa. And then, spread the arms of sofa slipcover over the arms of your sofa.
Step 3:
Now tuck the excess fabric from the side-arm into the crease between the arm and your sofa cushion. And then repeat the same thing to the other side.
Step 4:
And now, just smooth down any excess fabric from the middle of your sofa. Simply pull the excess fabric towards the arm and tuck it into the crease near the sofa arm.
Step 5:
Almost you've done the job, now tuck excess fabric along to the back-rest into the crease under the back support of your sofa. And then put back your throw pillows on your sofa.
Tips

and

Tricks

for

Protecting Your Sofa Fabric from Stains:
1. Purchase The Right Fabric Sofa:
Having a white linen sofa is a little bit ambitious if you have kids who can occasionally pop over your sofa, which means your beautiful white sofa fabric is at high risk of being dirty and stained.
On the other hand, microfiber fabrics stain-resistant and they come in different textures. Most of the microfiber you may clean with water, but before you clean it, you must check the cleaning tag.
Also, you can try wool, vinyl, or denim. But before you buy a fabric sofa, you can check the product description.
2. Use Fabric Protector (Stain Guard):
When you buy a new sofa, don't forget to buy a commercial fabric protector spray. And then just spray your fabric protector on your new sofa, it will protect your sofa from stains.
This is a great idea to treat your sofa with a fabric protector before stains occur. Fabric protector products will help make removal of the stains much easier when it happens.
3. Handle Stains

as

Soon

as

Possible

and

Avoid Scrubbing:
If your sofa gets spills, don't just leave it as soon as possible clean it. If you leave it, it will be much harder to remove. Read more: How to clean a fabric sofa
4. Use

a

Sofa Slipcover:
Some people spend lots of money to buy a new sofa, but they forgot to use a sofa slipcover. If you want to protect your sofa from dirt, dust, or stains you must use a sofa slipcover.
5. You Should Change Your Habits:
Try to change some habits to protect your sofa from stains, just think about you banning food and drinks from being consumed while you're on the sofa.
Seems like this is normal, but these are the most common causes of stains. So, try to avoid eating on your sofa.
Final Verdict:
I Hope, This content will help you to keep your sofa stain-free. And if your sofa gets spills, you must try to clean it out as soon as possible.