May you know about fabric paint, Fabric paint is one of the most useful tools for customizing your clothes, shoes, sheets, bags, and more. Most fabric paint only is used on a single type of fabric that's why it is quite difficult to find what you want. if you have a question!
Can I make fabric paint at home? Yes! if you want, you can make it from acrylic paints colors. Do you want to know how to make fabric paint from acrylic paint and how to set acrylic paint on fabric? Read this article.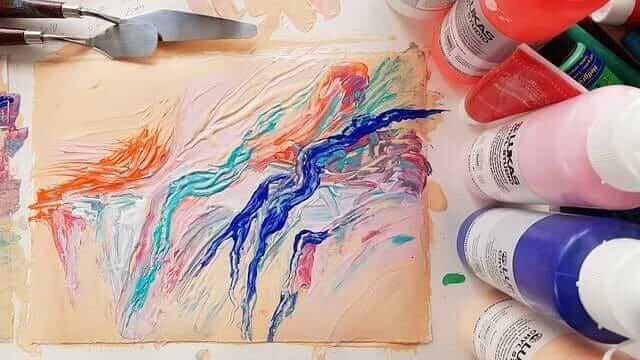 In this article, I'm going to show you how to turn acrylic paint into fabric paint. You can easily customize it yourself by colors, fabric type, etc.
It will work for whatever you want. Here you can learn how to paint clothes or fabrics with acrylic paint at home step by step.
What

is

Acrylic Paint?
Do you know what is acrylic? Acrylic paint is a paint that dries fast, When acrylic paint gets dried, it becomes water-resistant.
Acrylic regularly used in crafting and in art classes in schools because it's doesn't contain chemicals. You can Check Acrylic Paint Here
Why You Should Use Acrylic Paint?
There're some great reasons, That's why you should use acrylic paints
1. It's very easy to use
Easy to clean up
Acrylic paint is water-based and it's non-toxic
It's cheaper than oil-based paints
So, when you want to paint fabric you can try acrylic paint because this is safe.
Learn More About How to Make Fabric Paint from Acrylic Paint Step

by

Step
You can easily turn any acrylic paint into fabric paint, Here I'm going to show you how to turn acrylic paint into fabric paint, so read the full content, and then make fabric paint from acrylic and then decorate your, clothes and fabrics at home,
Things That you'll Needed:
When you want or planning to make paint for your fabric with acrylic, You have to gather some stuff which is listed below:
Purchase All The Materials:
You can buy acrylic paint, acrylic medium, and all the stuff you needed from online or your nearest craft shop,
When you buy it just ask the shopkeeper which acrylic paint people use on fabric, also read the paint bottle/pack.
Choose the color that you like. If you want to use the different types of colors buy a 3/4 paintbrush. If you have iron, you don't have to buy a new one.
Mix Your Paint

in A

Container:
Main and The biggest difference between basic fabric paints are thin and acrylic paints are thick. It can cause flaking of the paint and also an uncomfortable stiffness to the fabric.
You can thin it with water or rubbing alcohol, but it can cause it to seep through the fabrics instead of staying on the outside.
The easiest way to make great paint for fabric from acrylic paint is to thin it by using an acrylic medium for fabrics. Also if you want you can use a fabric paint medium.
Put acrylic paint and acrylic medium/ textile medium equally in the container and mix it up. You can make it thin or thick. If you want thin paint put more medium. And if you want more thick paint put more acrylic medium.
Test The Paint What You Made:
Now you have to use a piece of the same or similar fabric that you plan to paint on using your paint on it to test.
Or if you have a similar type of old t-shirt or shirt, just paint on a t-shirt to see how does it work.
All the acrylic paints are not the same. Also, it depends on what fabric you want to paint, the paint might need to be thinner or thicker to get the right look.
If paint soaks through the fabric, you may need some more fabric paint on it. On other hand, if it dries to an uncomfortable stiffness, then you may need some more acrylic medium on it.
Heat Setting Your Paint:
When the paint has completely dried, you can heat set it with Iron. At first, set your iron to a medium temperature and iron your testing fabric for 6-7 minutes.
Once your fabric is heat set, wash it with the same detergent you want to use on painted items.
For the wash, you can use a washing machine, or you can wash it with your hand. You can also use a hot dryer cycle to heat set acrylic paint on fabric.
Tips 1: Don't use steam for heat set
Tips 2: If you see your paint is still thick after washing your sample, then add a bit more medium and test it until you get the perfect paint.
Now Use Your Paint:
Well done! You just made your paint for fabrics. Now you can customize your clothes, sheets, pillows, etc.
Now you can make countless colors and now you're not limited to the colors at the store.
Read Next: Guide on painting fabric with chalk paint
Final Verdict
When you want to use acrylic paint on fabrics, before you start painting, mix acrylic paint and textile or acrylic medium perfectly, and wash your fabrics and allow them to dry completely then start on.
Be careful when you heat set. At first, you can start by just creating pillows or a basic t-shirt, but there're endless possibilities.
I hope this how to make fabric paint with acrylic paint will help you for your next DIY fabric painting project.