A towel is an item that must-have in any kitchen & almost everyone uses tea/dish towels. Everyone knows that fabric tea towels also are known as dishtowels and kitchen towels.
Tea towels are an item that is easy to make if you know how to use a sewing machine and if you've got a bit of skill in sewing. But choosing the right fabric for tea towels, kitchen towels & dishtowels can be a little bit hard for you.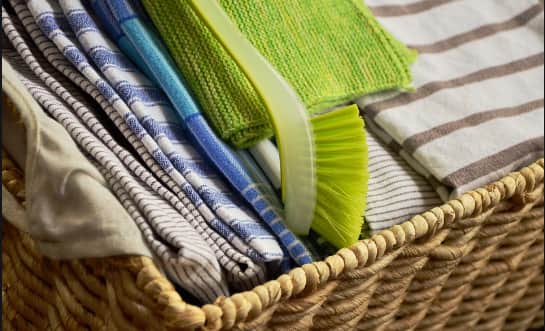 Hello, everyone, I'm David Johnny and today I'm going to talking about tea towels, kitchen towels, dish towel fabrics. So, if you want to know which fabrics are the best for tea, kitchen, or dish towels, read the full content.
Fabric

for

Tea Towels | Fabric for Kitchen & Dish Towels
1. Linen Fabric:
Linen fabric is the best fabric for dish towels, tea towels & kitchen towels. Because linen fabric is a natural fabric & releases the dirt easily.
That's why linen fabrics are the best choice for tea towels & dish, kitchen towels. So, if you want to make or buy tea, kitchen, or dish towels, don't forget to select linen fabric.
2. Cotton Fabric:
Cotton is another great material for tea towels, dishes, or kitchen towels. Cotton fabrics are super absorbent, that's why cotton fabrics are one of the best choices for tea, kitchen towels.
Cotton fabrics are mainly used for making tea or kitchen towels. Overall, if you want to make or buy tea, kitchen towels you can choose cotton fabrics without any doubt.
3. Cotton & Linen Mix Fabric:
Often cotton and linen mix fabrics are used for creating tea/dish towels because linen and cotton mix fabric combine the absorbency of cotton fabric with the ease of wash-ability in linen fabric.
Overall, if you're looking for fabric to make your dish towels, you can go for it.
4. Organic Cotton Fabric:
Organic cotton is another fabric used for creating a dish or tea towel.
Especially organic cotton fabric is a great alternative to regular cotton fabric because the organic cotton fabric is grown without the use of chemicals.
5. Dishtowels Fabric:
There're many fabric stores that sell what is called dishtowels fabric. This dishtowels fabric is sometimes linen, and although in general, it's a type of cotton fabric, such as birdseye or huck.
6. Bamboo Fabric:
I found that there're some tea or kitchen towels available on the market which are made of bamboo fabric.
So, if you want, you can try bamboo fabric as well. Some company says that bamboo fabric tea/dish towels work great, they're super absorbent and dry fast.
But I've never used bamboo fabric tea or kitchen towels. So, if you want to use bamboo fabric to make tea/kitchen towels, at first just make 1 or 2 towels then if it works well, after that you can buy more fabric to make more towels.
Final Verdict:
Hope now you know which fabric is used for tea towels. I personally recommend you to buy a linen or cotton fabric for making tea towels or dish/kitchen towels.
Thank you so much for visiting my blog, now if you want to learn how to make tea towels click here.