Tea towels are also known as dish towels or dishcloths. They're mainly used for drying dishes. Hello everyone! I'm David Johnny here, and today we're going to talking about what are tea towels & different ways to use tea towels.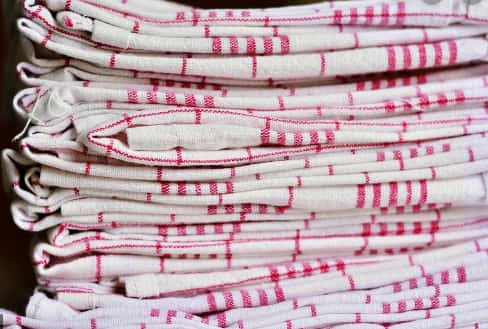 So, if you want to learn more about tea towels (what are tea towels used for), then read the full content. Hope you'll learn a lot about fabric tea towels from this blog post.
What
is a

Tea Towel?

The tea towel is a soft cloth made out of linen, cotton fabric, or a combination of both two (cotton and linen fabric is the top fabric for tea towels) and also has an imprinted design for decoration as well.

In 18 century, old English ladies were used tea towels to dry their fragile bone china, and also they were used at tea ceremonies. But nowadays, tea towels are found in homes & kitchens across the globe as well.

Also read more: how to make curtains from fabric
11 Different Ways
to

Use Tea Towels

Here I'm going to show you 11 different uses of tea towels.
Number 1: You Can Give Them
as a

Gift:

Tea towels are ideal for a housewarming, bridal, or wedding gift, personalized tea towels carry meaningful, and practical sentiment as well.

So, you can buy or personalize tea towels to use as a gift.
Number 2: Wrap Your Baked Foods (Goods):
You can keep your muffins, cinnamon rolls, and bread warm by wrapping them with a tea towel. A tea towel is a great personal and Eco-friendly wrapping option for us.
You can wrap your baked goods to keep warm when you're giving away your baked goods as a gift.
Number 3: Enjoy Your Breakfast with
a

Tea Towel:

Doesn't matter, whether it's a bowl of oatmeal or a hot cup of tea (or coffee), the tea towel is a great serving accessory. Tea towels help to keep mugs & bowls in the place perfect, also catch any drips or any spills as well.

Also, they bring a nice & beautiful, and uplifting design to any table. Overall, the tea towel is a super option for enjoying breakfast.
Number 4: Just Use
as a

Hot Pad:

This is another great use for a tea towel. Additionally, when tea towels are folded, they act as an effective hot pad.

You can place your hot baked goods & hot dishes on your tea towel to let them cool down.
Number 5: Personalize Guest Bathroom:
Just hang tea towels in the place of traditional hand towels to add a stylish and decorative look to your guest bathroom.
But if you want to decorate your guest bathroom with these towels, you must pick a design or pattern that matches the theme of the bathroom.
Number 6: Store Your Wet & Clean Dishes:
You can simply lay your tea towel on your table or counter and then place your clean & wet dishes and utensils to dry.
Number 7: Decorate Your Table with Them:
You can add some extra beauty to your table by using a tea towel as a placement or cloth napkins.
If you want to decorate your table with these towels, you must choose designs that really bring extra energy & life to your dinner party.
Number 8: Use Them
to

Keep Your Greens Crisp:

When we rinse leafy greens, they need a nice & clean place to dry. You can simply tuck them in a tea towel, and carefully pat them dry.

You'll found that they'll stay crispy and extra fresh in your tea towel.
Number 9: Just Line Your Serving Tray:
You can line your serving tray with a tea towel to catch spills and drips.
Additionally, this was the main & original proposal for these delightful little towels. Overall, this is another great use for tea towels.
Number 10: Use Them
as a

Hand Towel

in

Your Living Room:

You can hang a tea towel in your living room like a hand towel. This is not a bad idea, is a great use for a tea towel. If you like and want you can try it.
Number 11: You Can Line Your Cabinet Shelves:
Simply you can take your clean tea towels and then place them flat inside the kitchen cabinets.
Towels will absorb excess water from your dishware and glassware, and add a decorative look as well.
Read more: How to make tea towels
Final Words:
Hope now you know what are tea towels, and what is used for as well. Overall, the tea towel is the unsung hero of our kitchen & home. Stay safe !! see you soon with another topic, Bye Bye.
Read more about: how to make cloth napkins