Hello Everyone, How are you?. I'm doing well!. Today We're going to talking about how to make curtains from fabric.
Here you'll learn about how much fabric you'll need to make a curtain, measure, which fabric is good for curtains, And some different ways to make them at home, etc.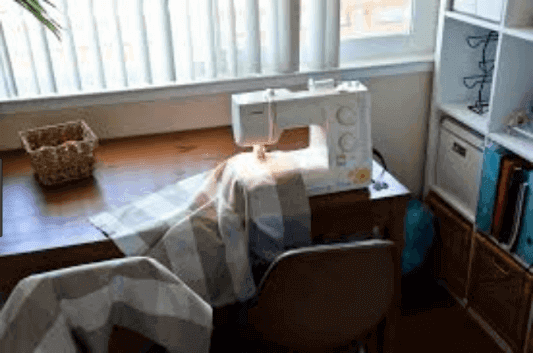 Making curtains is not so hard, Curtains are the easy sewing thing that you can make at home if you know the basic sewing. Let's get started…
What Fabric

to

Use

for

Making Curtains?
When you want to make a curtain you have to purchase the fabric. So, choosing fabric for curtains is one of the first steps to sew your own curtains.
Also, there's another thing to keep on your mind "color choice" what color do you like you can buy that color fabric for your curtains. You can purchase Synthetic fabrics, Cotton fabric, Silk fabric, Velvet fabric, Linen fabric, Synthetic blends fabric for your regular curtains.
But if you want to make sheer curtains you can buy woven fabrics. The color you can pick yourself, I don't want to force you for the color.
How Much Fabric Do You Need?
You'll need 6-yard fabric for every window If you want to make curtains for 4 windows, you have to buy 24-yard fabric. for a single window, you need 6-yard fabric.
When you buy fabric just talk to the shopkeepers, And ask them also how much fabric I need for a single curtain? They'll also help you!
Measure Your Curtains Size Properly:
Measure your curtains size properly before you start making it. This is one of the most important steps for making curtains at home. So, do it gently.
Width Measuring:
Most of the curtains or window treatments take 2 to 3 times more material/curtain to provide the proper fullness in appearance when hanging on the rod then the actual window width. You have to take a tape measure for measuring.
Just measure the width of the rod from right to left. The common rule for displaying curtains is the curtains finished width should be at last two times the width of the window, but for sheers, can be three times the width of your window.For example, If your window measures 40″ wide, you need a curtain that will be a minimum width of 80″, Or two panels for your window.
In this case, Two panels will be about 120″ to 140″ of width, It will look very nice.
Multiple Your Measured Width by:
A. Standard, for standard multiply by two.
B. Deluxe, for deluxe multiply by two an half.
C. Ultra, for ultra multiply by three.
Length Measuring:
You have to measure the length of your window or the area you want to cover from top to bottom.
The Curtain length, Anywhere from the sill to the apron/floor, This is a personal preference and not to be exact.
By moving the rod up or down, a little you could adjust the position of the curtain at the window. I hope You can measure all types of curtains size by following this method.
Fabric napkins making article here
Now Learn More About How to Make Curtains from Fabric Step by Step
Ways

to

Make Curtains from Fabric:
Here I'll try to show you 2 different ways to make a curtain:
Making curtains with a sewing machine.
Making No-sew curtains.
Method 1. Sew A Curtain:
Before you get started, You have to gather some tools and materials for making curtains.
Materials

and

Tools Needed:
Fabric
Thread
Pins
Tape measure
Iron and Ironing board
Sewing machine for fabric (You can sew a curtain by hand)
Hope you have all the stuff that you'll need to make a curtain. But if you don't have one, buy them from a fabric store or online.
Sew Your Fabric Curtain:
This is the final step, Now you have to cut your fabric and sew it. Measure window, purchase fabric and tool, and then cut your fabric and sew: You can use any type of sewing machine, from beginner to advanced sewing machines.
Step number 1.
Measure your window, Top of this article I showed you how to measure windows for curtains, so follow those steps and measure your window.
Step number 2.
Purchase fabric and tools that you need. Once you've done measuring your window, you can go to your nearest fabric store for buying those tools and fabric that you need to make curtains, Also you could buy online.
Step number 3.
Take your fabric scissors, lay the fabric on a clean and flat surface area ( you can use a table or floor ).
Already I have shown you how to measure for curtains, Do it slowly I mean measure twice cut once.
Measure the curtain size perfectly, and cut out your fabric.
Step number 4.
Now you have to iron and hem the sides" At first" place your fabric on the iron board And fold the entire length and carefully iron it.
After that fold over and once again iron it, and pin it then sew it. Repeat the other side the same way you did one side.
Many people advice sewing the hems by hand, but it will take quite longer than the sewing machine.
Step number 5.
Time to iron and hem top. Once you've done the sides, do the top and bottom. Fold half an inch for the top hem and then iron and pin it.
After that again fold over at 2 inches, Do the ironing, pin it, and sew.
Step number 6.
Now work for the bottom hem, for the bottom hem fold over at half an inch and iron it. Once again fold at 4 inches and then iron it, pin it and sew it.
Step number 7.
Iron your curtain again. If you'd like to hang your curtains iron them one more time, then you could go on to put them up.
Step number 8.
It's time to hang your curtains. It's not hard work to do, This is easily accomplished if you have a tall helper.
But if you don't have one, a steps-tool, ladder, or your chair is handy.
Method 2. Make No Sew Curtains:
In this method, you don't have to use sewing machines to sew. Before you start you have to gather some tools and materials. Here's the list of tools and materials that you'll need for making no-sew curtains:
What needed:
Measuring tape
Fabric
Fabric Scissors or rotary cutter
Iron
Ribbon (Choose a ribbon color that you like)
Make A No-sew Curtain Step

by

Step:
Step 1.
Measure your window to figure out how much fabric do you need to make a curtain.
Step 2.
Choose fabric and purchase, Also you must purchase those tools if you don't have them at home.
Step 3.
Wash your fabric and iron it, If necessary. But some types of fabric you don't have to wash.
There's a great idea to find out you can wash your fabric or not, read the side of the bold when you purchase it will tell you what you have to do.
Step 4.
Once you've prepared your fabric, cut each panel 13 inches longer and 3 inches wider than you want them to be, This extra fabric you'll need for the seam allowances.
Step 5.
Now you have to fold the bottom hem up at half an inch and then press it flat with your iron.
Always make sure that you're folding towards the wrong side of your fabric. Before you start for extra support insert some iron-on hem tape inside the hem.
Step 6.
Once again fold the bottom hem but this time at Six inches, Don't forget to insert a strip of iron-on hem tape.
Once you've inserted hem tape, press the hem down, After that iron it.
Step 7.
Now you have to fold each side over twice by half an inch and then press flat with your iron.
Here also, make sure that you're folding towards the wrong side of your fabric, And insert a piece of iron-on hem tape inside the 2nd set of hems that you're folding.
For extra support, and if you want you can insert iron-on tape inside of the 1st set of the hems as well.
Step 8.
Fold the top hem down by a little bit more than half an inch and press flat with an iron. Once again you have to make sure that you fold the wrong side of the fabric and for extra support insert iron-on hem tape inside the hem.
Step 9.
After that, fold the top hem again, this time fold by 6 inches, and press flat with the iron. Before you press down the hem insert iron-on hem tape, And make sure that the top edge of the hem tape aligns with the top.
Step 10.
It's time to flip the curtain, Flip your curtain that the curtain can face you, And press the hems with your iron for 5 to 10 seconds.
Step 11.
When you've finished pressing, leave the top hem alone if you want to slide onto the curtain rod Or if you use clip-on curtain rings.
Step 12.
Now consider attaching some tabs to make the self-pleating curtain. Flip your curtain so that the back of your curtain is facing you. Now cut your ribbon 4 inches long strips of 2 inches wide, space the ribbon 4 inches apart.
After that glue the top of each ribbon strip to the top of your curtain. And then glue the bottom of each ribbon 3 inches from the top of the curtain ( creating a bulge), Slide the panels onto your curtain rod.
Step 13.
Already you've made your curtain now you have to hang it, Just take curtain rod off from the wall and now attach the curtain.
Once you've done, place the curtain rod back onto the wall, and position the panels to either side of the window, and then tie them back with pieces of the matching ribbon if desired.
Some Tips
Curtain rings, If you use curtain rings clip them onto the top hem, and pass the curtain rod through the curtain rings…
And if you use ribbon tabs, pass the curtain rod through the ribbon tabs.
If you just use the hem, pass the curtain rod through the wide ( top hem ).
Final Words:
Well, Now I hope this curtain-making article will help you a lot, and now you can make your own curtain from fabric at home.
If you want you can make your kitchen curtain, bathroom curtain, window curtain, outdoor curtain by following this article. Always measure twice then go on to make your curtain.
Read more about removing wax from fabric