Kitchen room chairs are one of the most common furniture to reupholster. May you have fabric kitchen/dining chairs. Of course, you use it regularly that has been through it all, and needs a makeover. When your fabric kitchen chairs need a makeover, may you have some questions in your mind, how much fabric do I need to reupholster a chair seat? And how to measure fabric kitchen chair seat for upholstery fabric?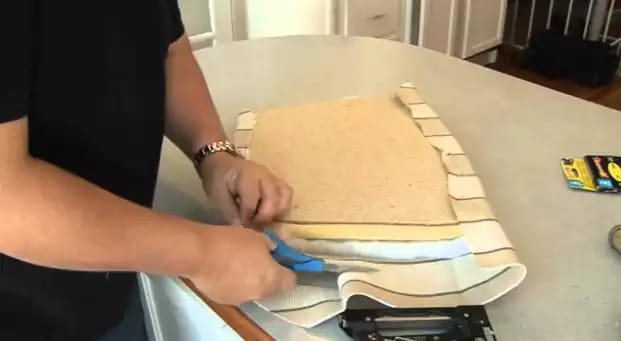 The first step is choosing the best quality upholstery fabric. Also, find out how much upholstery fabric do you need for your fabric kitchen/dining room chairs.
I'll make sure to give you some ideas to measure your kitchen/dining chairs seat. Whether you do it yourself or hire someone to do it, knowing the right measurements help you know the amount of fabric you need.
Learn More About How to Measure Fabric Kitchen Chair seat

for

Upholstery Fabric
Using Existing Pattern:
You can easily measure your kitchen room chairs seat by using an existing pattern. It's easier to use the current pattern rather than taking down measurements to measure the fabric for dining room chair seats or kitchen room chair seats.
At fast, you have to take off the old fabric that is currently on the chair seat and iron it.
When you finished ironing it's ready to use. Use it as a pattern for the new fabric, add an extra inch around the entire pattern. For the average kitchen room chair (16″x18″), you can buy two sets of 3/4 of a yard, of 54″ wide fabric.
Read more, How to clean fabric kitchen chairs at home
Measuring with

a

Tape Measure:
Measuring a kitchen room chair seat is very simple. Remove the chair seat to get accurate measurements.
Use a tape measure, measure the length of the kitchen chair seat from top to bottom from each bottom edge and add extra three-four inches to both sides to allow for a folded over the finish and stapling underneath.
For the average kitchen chair (16″ x 18″) you don't need to measure the width. Because of upholstery fabrics that are 54″ wide. It will give you a sufficient amount of fabric to work.
If your kitchen room chairs are larger than average, you can measure your chairs' seat width in the same way as you'll measure the seat length at its widest point.
If you own more than one chair and all of those chairs seats need a reupholster. Multiply the number of your chairs by 0.75 and divide by two. it will give you the amount of yardage you'll need for your kitchen room fabric chairs to recover.
And If you choose a pattern with a repeat, buy yourself an extra 1/2 yard fabric to match the fabric. If it's a large print, center the pattern in the middle of the chair seat, this way it's not off-centered. with the repeats and large prints consider an extra half yard to a yard, for centering and matching the fabric.
Conclusion
Finally, I hope you get the ideas about how much fabric to reupholster a chair seat, and now you know about measuring fabric kitchen chair seats for upholstery fabric.
Read more about, How to cover up a headboard with fabric