Are you searching for a high-quality manual die cutting machine, and you don't know which one to select? If so, then Sizzix Big Shot (Pro) can be an ideal option for you!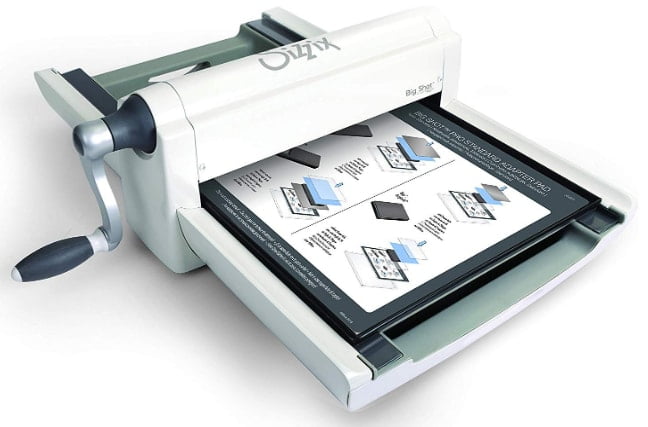 Hello everyone! Welcome to our Sizzix Big Shot Pro review content.
The big shot pro machine is a large, powerful, heavy, and heavy-duty machine as well. And it's one of the most popular manual die cutters on the market.
Therefore, this die cutting machine is well constructed. It's not good enough for those people who need a lightweight machine.
You may get it! Now what I am talking about. The machine is an excellent one for those people, who need a powerful and heavy-duty one.
The pro machine can cut lots of different types of materials. With this cutter, you can cut multiple layers of materials at the same time.
Evan, you'll be able to cut thin metal sheets. All in one, it's an ideal tool for quilters, because it can be used for quilting jobs as well.
If you purchase it and if you're a new user, then when you unpack it, you'll be surprised because of its size. It's really a big one! Its measure is 24 1/4″ long, 15″ wide, and 7 1/2″ high. And it weighs about 19.9kg.
Then the handle sticks out about another 5 inches as well. However, it's one of the heavy-duty manual die cutters, and it has lots of great features.
The Sizzix Big Shot Pro review:
The Sizzix brand is one of the most popular die-cut machine brands on the market! This brand provides high-quality die cutters for a long time.
This Pro model is specially designed for medium to large die-cutting projects. But this Sizzix brand also provides us a die-cutter machine for small to medium cutting projects.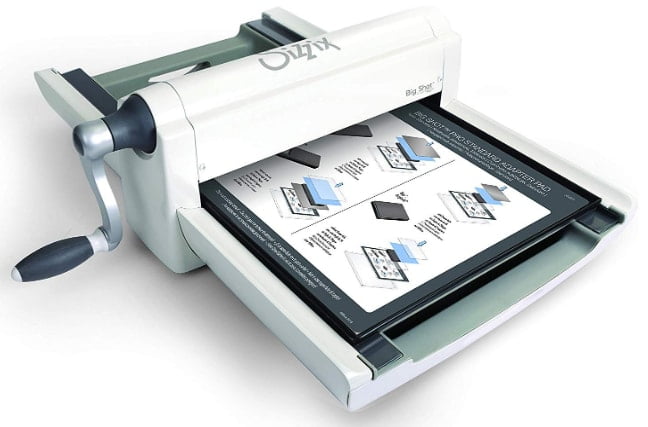 The Big shot model is a die cutter from the Sizzix brand, which is designed for smaller cutting projects.
However, this Big Shot Pro Machine pack comes with everything, you need for a successful die-cutting job.
The pack includes a standard sliding tray (1), premium crease pad (1), mylar shims (1), standard adapter pad (1), standard cutting pad (1), and die pick (1).
Typically, it's a die-cut and embossing machine. So, overall, it can be an ideal option for those crafters who needs a die-cut & embossing machine for their projects. The machine is compatible with Big Shot Plus and Pro dies.
Another good thing about this machine is you can use it with different dies, including, Ellison dies, Spellbinder dies, Fiskar dies, Accucut dies, Cricut dies, and sure cut dies as well. And this feature makes this machine perfect for everyone and versatile as well. Don't just think it's a large one and let it.
Overall, It's easy and simple to use & handle, and the machine has lots of good features. And the pro machine will provide you high-quality die-cutting results.
Read Next: Commercial fabric cutting table
Some Great Features

of

this Big Shot Pro Machine:
Here in this section, we're going to talk about Big Shot Pro's features, so that you can know what you going to get if you purchase this machine:
1. Its Build-Quality
2. Its Weight

and

Size
3. Its Handle
4. Its Adapter Pad
5. Sliding Tray
6. Pro's Cutting Pad
7. Crease Pad
8. Mylar Shims
9. Its Storage Space
10. Warranty
Read Next: Battery operated scissors
What You Can Cut With This Big Shot Pro Cutter?
This is one of the most powerful manual die cutting machines. And with this one, you'll be able to cut different types of materials.
Here we're going to make a list of materials, that you can cut with this Big Shot Pro.
Felt
Fabric
Balsa wood
Flattened aluminum cans
Matboard
Chipboard
Corrugated cardboard
Foam
Thin brass
Cork
Thin leather
Pros
The machine has a big working surface
It's very easy to use
Comes with three years warranty
It Can be used with different types of dies
Very easy to operate and maintain
The machine can cut different types of materials
This Machine can cut wider materials to create bigger & perfect projects.
Able to cut multiple layers of materials at the same time
Cons
The tool is a little bit expensive
It's quite heavy
Difficult to move around, because it's heavy and large as well
Final Verdict:
In this final verdict section, Only we can tell you that, Big Shot Pro die cut machine is one of the versatile, and well build manual die-cutting machines from Sizzix brand. And the machine is one of the suitable options for both commercial and personal uses.
Overall, If you're looking for a high-quality die cutting machine for cutting different types of materials, then you can go for this Big Shot Pro without worry.
Lots of people use it, and they're happy with this cutter, we hope you'll be happy as well with this pro die cutter.
It doesn't matter, you're an expert or beginner, we highly recommend you this cutting tool for craft and quilting.