Wether You want to make dresses, curtains, quilts, embroidery projects or re-upholster your furniture, You'll need fabric cutting scissors or any other fabric cutting machine to cut the fabric. Tools for cutting fabric is very important for sewing and furniture reupholstering project.
A long time ago people were used scissors to cut the fabric, but in this modern day's people and the garment industry use fabric cutting machines.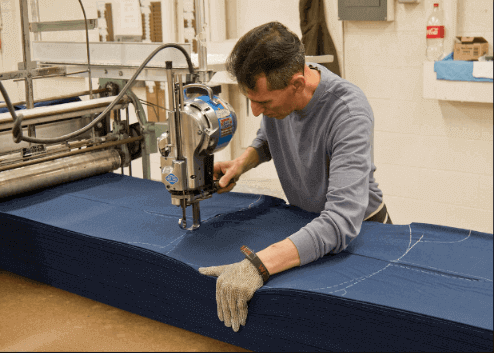 In this article, I'm going to talking about the different types of fabric cutting tools that you can use for your project. So read this article to find out which one is great.
Learn More About Different Types
of

Tools for Fabric Cutting

There're lots of different types of fabric cutting tools available in the market, I put them in 3 categories. Here are the 3 types of fabric cutting tools for cutting your fabric
Manual fabric cutting tools.
Semi-Automatic fabric cutting tools
Fully Automatic fabric cutting tools
1. Manual Fabric Cutting Tools:
Manual cutting tools for fabrics are hand-operated mechanical tools/machines that can cut, emboss, and punch holes in many different types of fabrics, here are the types of manual fabric cutting tools:
Drill cutters
Die cutters
Hand operated scissors
Rotary cutters
A. Drill Cutters
Drill cutter, These tools you can use on fabric to cut your fabric, Drill cutters make holes in the fabric in given specific spots.
You can make a hole in the fabric with a drill cutter. You can use it when you want to rivets, attaching different fabrics to one another with anchor spots or you want to build a structure with darts or pleats.
B. Die Cutters
Die cutter is a tool that you can use to cut your fabric, these tools use metal dies and pressure to cut outlines and create textures with embossing.
If you have a die cutter you're limited to the number of dies that own, but you can add more dies if you want more shapes.
You can use it to cut paper or fabric. The pressure caused between two plastic pieces and additional material cut allows the die cutter to cut into the paper or fabric.
Also, they're available digital computer die-cutters as well. This type of die cutter use computer programs that can cut any medium and also simplified versions of the industrial automatic machines.
Overall this is a good solution for the casual crafters and digital options have many different options though you're limited to which brand you use moving forward.
C. Hand Operated Fabric Scissors
Hand-operated scissors are the old and simplest solution fabric cutting tools to use. Hand-operated scissors have been used for thousands of years for cutting fabric and other thin mediums.
I recommend you to buy high-quality scissors and use them judiciously before you purchase scissors just talk to the shopkeeper and ask them which is the good one for cutting fabric. Always keep them sharp and out of children.
D. Rotary Cutters
A rotary cutter is a tool that looks like a pizza cutter. These rotary cutters usually come with self-healing mats on Which you place the fabric and cut.
If you want to cut many layers of fabric at once, rotary cutters are perfect for you. They're very useful for cutting thick fabric like vinyl and felt.
Most of the rotary cutters come with spare blades. You should not cut papers with your rotary cutters if you don't want to dull the blades.
Find out more for making napkins from fabric
2. Semi-Automatic Fabric Cutting Tools:
Semi-Automatic cutting machines are another type of fabric cutting tool/machine used in the garment industry. Here is the list of semi-automatic fabric cutting tools:
Straight knife cutting machine
Band knife cutting machine
Notcher cutting machine
Drill cutting machine
A. Straight Knife Cutting Machine
This tool has a straight knife that is similar to a sewing machine. Operators use it along with a pattern to cut out any shape by pushing the fabric to all the vertical knives to cut.
It's very quick and fast, but there're safety concerns. They can't be used by children, and diligence is imperative during operation to make sure that there're no injuries.
B. Band Knife Cutting Machine
Band knife cutting machine uses a vertical knife similar to a straight knife cutting machine, But it's more heavy-duty than a straight knife cutting machine.
You can easily cut denim, Corduroy, Foam, and upholstery materials with this band knife machine. Diligence Must be used with this machine to ensure that there're no injuries. You should not allow children to use this machine.
C. Notcher Cutting Machine
Notcher machine is a special type of fabric cutting machine, It's very useful to cut a small notch to the fabric.
Also, It's perfect for creating perforations and ridges. This machine is normally a more specialty item but you can use it easily and pivotal when needed.
D. Drill Cutting Machine
Drill machine for cutting fabric like the drill cutter, you can use this machine to punch holes in the fabric. This is a great option for production work and holes for buttons.
Drill cutting machines for fabric are easy to use and can help to easily create attachment points. You can make punch holes in all types of fabric.
Read More About: Best Electric scissors For crafts, sewing, and fabrics
3. Fully Automatic Fabric Cutting Machine:
Here are the different types of fully automatic fabric cutting machines:
Laser cutting machine
Plasma torch cutting machine
Water cutting machine
Rib cutting machine
Air jet cutting machine
Ultrasonic cutting machine
A. Laser Cutting Machine
A laser cutting machine is a fully automatic cutting machine. It's a tool used in jewelry making. It's a great choice for cutting stronger or upholstery fabric,
Also, they're a good choice for plastic, metal, and paper. A most exact computer guiding laser cutting machine, very complicated designs can be easily done with this machine. This is very fast, simple operating.
B, Plasma Torch Cutting Machine
Plasma cutting machine similar to the laser cutting machine.
It was originally developed to satisfy our demand for high-quality cutting, it's used for cutting stainless steel and aluminum, but also it can be used to cut textile materials.
You can cut fabric with this machine. This is an expensive toot but creates amazing punched-out pieces easily and quickly.
C. Water Jet Cutting Machine
A water jet cutting machine is an industrial tool that is capable of cutting fabric lay by using a very high-pressure jet of water. Also, you can cut wood, metal, and glass with this machine.
D. Rib Cutting Machine
A rib cutting machine is a larger machine that helps construct pieces by cutting woven fabrics into strips. You can cut a lot with this machine in a short time. The garment industry uses this machine widely.
E. Air Jet Cutting Machine
An Air jet cutting machine is able to cut almost anything and this is very powerful, this cutting tool uses very powerful streams of air to cut.
It's a computer-controlled machine. You can cut almost anything with an air jet cutting machine.
F. Ultrasonic Cutting Machine
The ultrasonic cutting machine is specifically useful when comes to cutting woven fabrics.
But you can cut any type of fabric with ultrasonic cutting machines.
Last Words
Fabric cutting tools come at many different shapes, sizes, and prices. When you want to buy a tool for fabric cutting just keep in your mind where you want to use it, if you want to make your own thing you don't need to buy a big tool for cutting fabrics.
But if you have or you plan to start a garment then you can buy big tools. Always research the fabric cutting tools brands and buy high-quality tools.