Planning a weekend with your family? Or an epic adventure into the wild with your friends? Well, then you must be looking for a great tent to brighten your camping experience.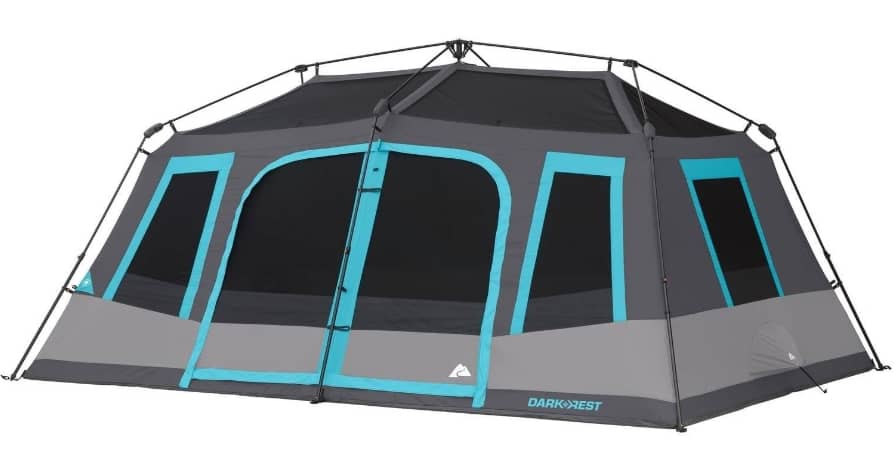 When you're camping with a large group of people, picking the right tent is really important. Fortunately, I happen to come across a great product, the Ozark Trail 10-Person Dark Rest Instant Cabin Tent. And I'm going to review it here.
So let's start!
Description

of

Ozark Trail 10-Person Dark Rest Instant Cabin Tent!
You must agree that during camping, one of the best feelings is sleeping under the night sky. On the other hand, waking up unexpectedly in the morning with the scorching heat of the sun coming in is the most annoying thing. At least that's what I feel!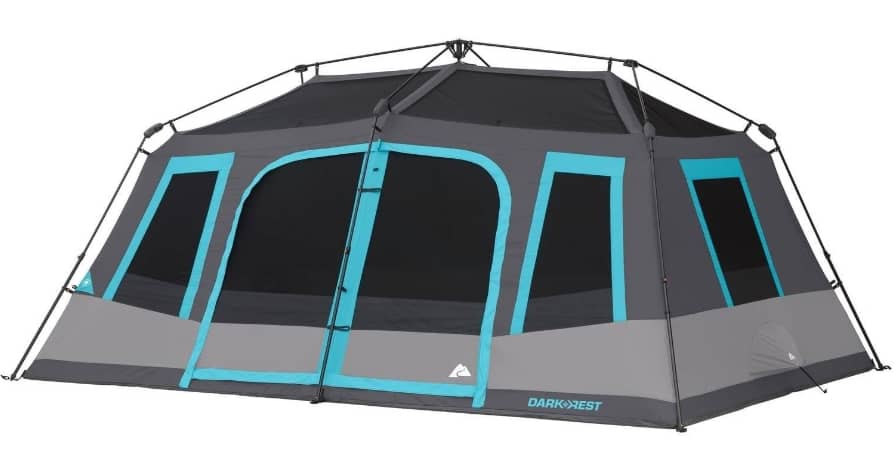 But with the Dark Rest Technology of this instant tent, you'll not feel that way. Your tent will be darker and cooler for a longer time. While describing this product, the first thing I need to clear is what exactly the name means!
So, let's break down the name and describe it for your easy understanding.
Next Read: Ozark Trail 14-Person Spring Lodge Cabin Camping Tent Review
Dark Rest? What Does

it

Mean?
The Dark Rest (also known as the Darkroom) implies:
The materials are made dark.
Four skylight mesh openings that you see are added with zippered dark panels for which you get a dark environment.
Well, the same dark materials are also on the door and windows.
But What's The Purpose of This Added Feature? Well,
You'll not have to face the blazing sun. So, you can sleep more in the morning!
Nap during the day is going to be peaceful.
The tent will be filled with a comparatively cooler atmosphere.
However, you can still unzip some of the skylight panels with the vinyl translucent windows and allow direct light inside.
What

is an

Instant Cabin Tent?
There's a pre-attached frame included in the tent. That means you can unfold it and extend its telescopic poles in all directions. It somewhat looks like spider legs. You can do it in 2 minutes only!
And the cabin you get is steep, straightened, and with tall walls.
We know that the instant tents are "freestanding". However, it would be best if you staked it down. You'll get 14 steel stakes put in the package. Tent setup requires no time for more than 2 minutes.
Now, What About Materials

and

Construction?
The tent has a catenary cut. And Polyester is used as the tent fabric and polyethylene on the floor. The poles are made of steel.
The ceiling is comprised of three layers.
The mesh
Panels beneath the mesh
The fly above it
The four panels with zippers give you the freedom to create a dark area. The fly above the panels has vinyl windows so that you can enjoy direct sunlight with freedom.
The same dark material used in window panels is on the ceilings and the door panels.
The closed panels reduce the dust entering from outside. Also, your warmth is substantially preserved in it.
Here's a note: People have been complaining about "holes" in the tent. But in reality, those are just the fabric with lesser dark color. These are intentionally put so that the sunlight can pass through them.
Since the fabrics are at small spots, people claim it to be a hole. So, keep this in mind in case you find any.
Proper Ventilation

is

Provided
Air circulation might get reduced when you close the roof panels. However, not all ceiling is closed. You'll still have two triangular areas with mesh on each of the two sides of the ceiling.
The two-floor vents also contribute to generating enough vertical airflow. Regulating airflow in the tent is not an issue as the windows and doors have both mesh and panels.
Next Read: Coleman six Person Instant Tent Review
Other Things Included

Are

:
A hook (at the peak height point)
A number of nicely designed storage areas on the wall
Also an electric cable port on the wall
Two D-shaped external doors are abreast, and with zippers.
The Specifications:
Brand: Ozark Trail
Tent Type: Cabin Tents
Materials: Steel, Polyester
Color: Gray
Capacity: 10 Persons
Dimensions: 14 x 10 ft. (140 sq. ft.)
Assembly: Instant Setup
Windows: 8
Doors: Two; D-shaped
Poles: Pre-assembled
Included: 14 steel stakes, Carry Bag
Who

is it for

?
The brand claims that its capacity is for 10 people. But, when you consider its floor area, you'll have 14 ft. sq. per person. So, it's safe to say that you should use the tent for a maximum of 5 people. Well, if you want comfort, then this is the best option.
Moreover, the 2 rooms are big enough to fit queen size beds. And there's 1 door per room. So, it can be a great tent for 2 couples also!
Well, season-wise, the tent is ideal for summer camping. And I would not recommend using it in harsh weather.
If you love to change your camping place frequently, then this is the tent for you. Its instant setup design completely agrees with frequent changes.
This tent is a bit heavy and requires a car to carry it. So, those who have the option to carry it in a car can use it. Also, the destination must be somewhere with car access.
Features:
Futuristic Dark Rest Technology
2 room tent
Blackout interior for peaceful sleep
Fits 2 queen airbeds
Easy-to-repack
Skylight ceiling panels, removable curtains
Rainfly protection
Included hanging gear organizer and gear pockets
3 season tent
Pros:
Sturdy and easy construction
Quick setup takes 2 minutes only
Lots of storage space
Pre-attached poles. No assembly required
Control light at your choice
Freestanding design and excellent ventilation
Capable of 10 person
Affordable price
Cons:
Not so suitable for strong wind and heavy rain
Might be a bit heavy
Final Verdict:
My overall experience with the review is quite satisfactory. This tent is ideal for summer vacations and camping especially in places with little wind and rain.
The Dark Rest tent design indeed creates a darker and cooler atmosphere. Also, you can share the tent with a number of people without any doubt. However, the capacity might not be that great as it claims to be. But it surely provides space for five people.
The eye-catching feature for me is the opening and closing of the large skylights. It's like you can control the light!
I would recommend this tent if you're planning to camp in comfort.
Last but not the least, happy camping!