Ozark has always been a fascinating adventure explorer by its innovative & modified designs in a tent. You can see several bloggers are exploiting the Ozark tent and even comparing many other newcomer tents with Ozark.
Ozark trail tents are well known to everyone who has ever considered camping or exploring adventure.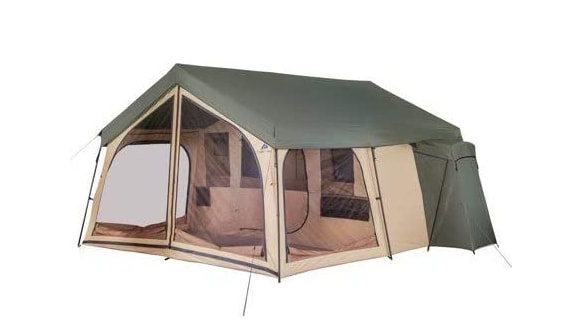 By any means, tents should always be a quality product, and Ozark keeps that promise while modifying according to the user's needs. Let's break the fact down why you should consider Ozark Trail.
Description

of Ozark trail 14 person Spring Lodge Cabin Camping Tent
By now, you're well acknowledged by the name for whom the tent is. While having a large group of people like 14 for camping, a tent-like Ozark having space for 14-person is of great help.
Many large groups consider using numbers of a small tent and set a separate dome. That's troublesome and risky at the same time.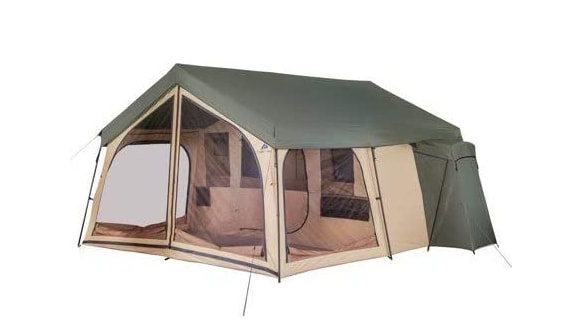 Now, allow me to describe the fact why a large tent-like accommodating 14-person is beneficial.
The Very Obvious Thing, SPACE!
Like you expect, a 14-person tent will be much bigger with lots of space. Take note that 14-person actually can accommodate 14 individuals but not in a comfortable way.
The manufacturer assumes the measurement according to the pad number can be fitted on the floor. But in reality, 14 individuals will not be sleeping in such a compact position. A 14-persons tent is more suited for 10-people.
Multiple Doors, Windows & Rooms:
The 14-individual tent comes with separate rooms are doors for privacy. It seems like a mini camping zone with multiple entrances and sleeping rooms.
Ozark has two sleeping rooms that sound little, but you can turn the screen room into an extra sleeping zone. Using the zippered panels, you can turn the screen porch into a total private fully enclosed room.
Screen houses give additional protection from insects & unfriendly weather.
When it comes to windows, large tents offer you boxy kinds of windows along all the large enough walls for you to visualize the outside and wide sky.
Small tents won't give you such pleasure of visualization. No need to say the ventilation is well-developed.
Improved Headroom:
A large tent's design, not you have wide space and a high ceiling that seems like a mini house means many headroom users. Ozark tent is 84- inches tall, one of the highest 14-individual tents on the market.
Tall campers don't have to worry while using such a tent.
Next Read: Ozark Trail 10 Person Dark Rest Instant Cabin Tent Review
Other Facts That Makes Ozark Trail 14 Person Spring Lodge Cabin Camping Tent Worth Buying:
Frame:
Tents are supposed to stand depending on a frame that is durable and stable enough. Ozark uses a steel frame & roof for the proper stability.
Design:
The tent looks like a traditional cabin from the interior design with the center-peaked roof. The outer design gives more of a natural view, a perfect combination of light-wooden and green colors.
Waterproof:
Some tents are waterproof, where others are not but come with a waterproof rainfly for water-resistant.
There's a rainfly in this tent that is seam-taped, ensuring protection in unfriendly weather. The rainfly isn't fixed, so you can choose to roll it back on the hot summer nights. Rolling back the rainfly will keep the tent cool.
Mudding Mat:
It's disgusting to walk indoors with muddy shoes having no place to keep them. It almost ruins the environment. Ozark's extra feature offers you a mud mat to keep your mud shoes.
Separate Storage-Closets

and

Pockets:
More people need multiple storage pockets, and Ozark provides that. Along with that, curtains are dividing the room for privacy. The tent has separate storage closets for the two rooms.
Fortunately, you're free from clogging up the sleeping parts with the large gear. The cabinets and mess storage will be of great help to you.
Three Seasonal:
Usually, tents are designed to be three seasonal.
Though Ozark tent is three seasonal, but users recommend calm weather. As you can see, the height is 84″ tall, which is dangerous for high wind.
Port

and

Slot:
The slot is an extra feature for supporting most electronic devices. There'll even be a port for fitting the power cable into the Ozark tent.
Set-Up:
The ring-&-pin system & the color-coded poles make the set-up mechanism pretty easy to handle. The guy lines increase stability and structure security. Large tents like this one need such security.
Reasonably Priced:
When you search for something spacious with a reasonable budget, Ozark will eventually fit the bill.
Specification:
Floor area: 189 ft2 or 17.5 m2 (app)
Dimension: 174L x 156W x 84H -inches
Room no: 2 with an extra screen room with the zippered panel
Height: 84- inches tall
Season: Three seasonal
Maintenance:
Avoid any pointed pins or objects that can damage the fiber
Avoid any flammable substance putting near the tent; the fiber meets the flammability requirement
Let not the tent to wet both interiorly and exteriorly
Let not the tent fabric to be too dirty as it will reduce the quality
Find an even place to set the tent up
Reinforcement:
Reinforcement is crucial to big tents as it can rip out from the soil due to heavy rainfall or big winds. Reinforcement keeps the tent more stable. Follow some small tips that I'm providing below:
Using heavy-duty guy-ropes for holding the structure is a wise step
Use a hammer for knocking stakes into the ground with your utmost force
Insert the stakes at an angle of 45 degree
In case necessary, use some heavy rocks to put on the stake's top
Warning:
The tent fiber isn't fireproof and meets the flammability requirements of CPAI-84. So, be cautious while putting fire near the tent. Constant heat near the tent by any means of the flame source might put the tent on fire. So, be sure to avoid putting any fire near the tent.
The flame resisting properties of the fiber may render if you put any foreign substance on it.
Features:
Two-bedroom with one screen room that can be turned into a bedroom
Ceiling height of 7ft that allows more headroom for users
The rainfly is waterproof but not the tent
Putting the rainfly on time will save from water, and removal of the rainfly will cool down the tent during warm weather
Multiple doors and windows
Multiple storages and double closet cabinet
Some extra features like mudding mat, slot, & port
Pros:
Total floored screen room
Screened-in porch
Double storage closets
High ceiling
Wide windows for better visualization and airflow
Cons:
It would be better if there were more than two sleeping rooms
Next Read: Coleman Highline four Person Dome Tent Review
Final Words:
In this Ozark Trail Tent review, we had tried to provide authentic information and views on the product. Maintain your role of maintenance properly for lasting the stuff for decades.