You can decide to paint on fabric for varieties of reasons. Which types of fabric paint you can use on your fabrics depend on the project.
If you have some fabric painting techniques, It will be easy for you to decorate your shirts, shoes, fabric couch, fabric chairs, and other stuff with fabric paints.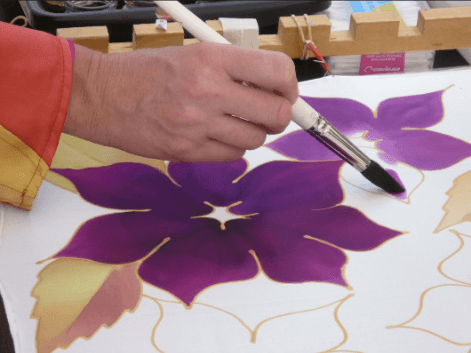 Here I'm talking about some painting techniques with you, That you can get better results when you paint your clothes or fabric.
Why You Should Paint

on

Fabric or Clothes?
Have you ever wanted to decorate a fabric with paints or personalize shirts, shoes, fabric-covered furniture with paint? You can do it with fabric paints.
People are painting on fabric for thousands of years, And also Artists in places like Asia, Bangladesh, and India developed Many fabric painting methods.
You can make a unique design in your furniture, clothes, or shoes, with fabric paints.
Painting on fabric can be a good option to decorate anything from clothing to home furnishings like the curtain, tablecloths, fabric sofa, fabric chairs, etc.
It opens possibilities for creative expression, It allows you to create unique works of art.
Also, This is not so hard a task to do. So, if you want to really learn more about fabric painting, read this full content
Read More: How to dye fabric at home step by step
Fabric Painting Techniques on Clothes for Beginners
Here I show you some painting techniques. I hope you'll get the best results if you follow These tips for fabric painting.
1. Select The Fabric

for

Painting
Cotton fabrics are 100% perfect for painting. Also, you can get good results on rayons, silks, and denim fabrics.
Your Paints will be most effective on white fabric, Also other light colors are effective.
Always it will be good to try a sample to check out how it works. If you want to use dark color fabric paints, choose the light colors fabrics.
2. Wash The Fabric
Before you start painting you can wash the fabric, but you can paint without a wash.
To test whether your fabric needs washing, put a little bit of water on it.
If your fabric beads up on the surface that means it needs washing. Wash and dry your chosen fabric according to the manufacturer's washing direction.
3. Don't Use Softener
If you wash your selected fabric, don't use a fabric softener on it.
4. Iron

it to

Remove Wrinkles
To remove wrinkles from your fabric iron the fabric if needed. Because you need a soft, smooth surface for best results.
5. Use Sponge or Cardboard
Remember when you painting a shirt put cardboard or a sponge inside your shirt so the paint does not seep onto the back of the shirt.
6. Use Bleach
You can use bleach to remove the dye in a piece of fabric, for unexpected and unpredictable results.
You can use a cheap brush to apply bleach and do not forget to wear gloves so you do not get bleach on your hand and skin.
7. Allow Your Painted fabric or Clothes

to

Dry Perfectly
After you finish painting your selected item, let it dry for several hours, overnight or ideally.
8. Heat Setting
You can cover your painted fabric with a towel. And start ironing over the towel with the highest heat. The highest heat is recommended for the painted fabric.
Keep on ironing over the painted area for at last four minutes. You must not use an iron steam setting.
9. Wash Your Painted Item
Wait for one/two days before you washing your painted item when you washing turns the fabric inside out and wash it with cold water.
10. Clean up Paint Bottle

and

Paintbrushes
Before you start painting for minimizing the mess by covering the work area with old cloth or newspaper.
Once you've done painting, wipe the tips of paint bottles, and wash your paintbrushes with cold water and man dish soap.
Final Words
Even If you're a beginner, you can paint on fabric easily at home by following my article, this is not so hard. I hope you enjoy my article and you'll do your project.