Gardening in a container is a great way to garden in small spaces, improve your soil or even garden where is no soil at all. Grow bags are a great alternative to containers. You can garden indoor or outdoor in small spaces with fabric grow bags. In this content, you'll learn how to make fabric grow bags at home.
You can buy ready-made fabric grow pots but also you can make your own grow bags or make your own fabric grow pots at home yourself. Making grow bags with fabric is very easy and simple.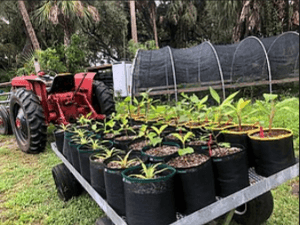 I'll make sure to give you full ideas about how to make fabric bags at home, that you can make your fabric planter bags yourself for your indoor or outdoor gardening, and you'll get extra benefit from fabric pot/grow bag.
Because fabric grow bags are very good for your plants. So, read the full article, if you want to learn more about how to sew a grow bag.
If you want to buy grow bags, you can check these:
How to Make Fabric Grow Bags Step by Step
Tools

and

Materials You'll Need

for

Making Your Own Fabric Grow Bags:
At first, you have to purchase those tools & materials listed below to make grow bags from fabric. So, at first, check the list and then sew your own grow bags.
Fabric
Scissors or a rotary cutter
Thread
Fabric pen/marking pen
Upholstery sewing machine
Tip 1: If you want to make a few homemade grow bags just buy fabric, fabric pen, and scissors.
Hire the sewing machine or borrow it from someone(Maybe your neighbor or relative if they've one).
Tip 2: If you planning to make lots of fabric planter bags, you can buy all the tools and materials.
Choosing The Right Fabric

for

DIY Grow Bags:
Landscape fabrics are quite good for grow bags. Most people are using black landscape fabric for grow bags so purchase black landscape fabric, it's breathable.
Cut The Fabric

for

Making Homemade Grow Bags:
Now you have to cut the fabric with your scissor. You can make medium, big, or small size bags depends on which tree you want to plant, if you want to plant potatoes in fabric bags, then make them big. The square foot size is perfect.
For example, you want to make a square foot size fabric grow bag, you need four feet plus an inch fabric for the seam.
For the height just divide the fabric in half and it works nicely.
Sew Your Grow Bags:
This is the final step to make a fabric grow bag. Don't be hurry, make your own grow bag gently.
Here's the step-by-step guide for sewing grow bags.
Step One:
At first, fold the fabric and then sew the bottom & the side to make a bag.
Step Two:
Here You have to fold the corners of the bag & also you have to secure them. So, fold the corners of the fabric bag and secure them.
Step Three:
Now you can draw 2 lines to an inner square, you could make a template yourself to do this. For a square foot grow bag, you have to go for 6 inches from each corner and 12 inches in the middle.
Step Four:
Sew along the corner lines of your grow bag. Don't be hurry, just sew grow bag slowly to make a perfect grow bag.
Step Five:
Finish the top of the fabric grow bag by folding it over once or twice and you did the job, this is how you can make your own smart pots. Now just use your grow bag.
Video

for

Making Grow Bags
If you want, you can watch this grow bag-making video. Hope this video will help you a lot.
Conclusion
This is how we can make grow bags. You can call it fabric garden bags, grow bags, DIY fabric pots, DIY grow bags all are the same.
I hope now you can make grow bags at home and save some money too. Make sure to make big size grow bag for planting potatoes!